I have been working as a location scout for years, so as the person who finds filming locations for TV, movies and photo shoots. I had gotten into this job by accident, but I quickly found pleasure in it. Sometimes I almost feel like a private investigator, setting off with only a few clues as well as my car and my camera, the two indispensable companions. This job definitely nurses the desire for adventure. And it also pays quite well. And indeed, I have experienced the weirdest things during my search.
In my book, 'Whatever work (s)' there is an extensive chapter about it (in German).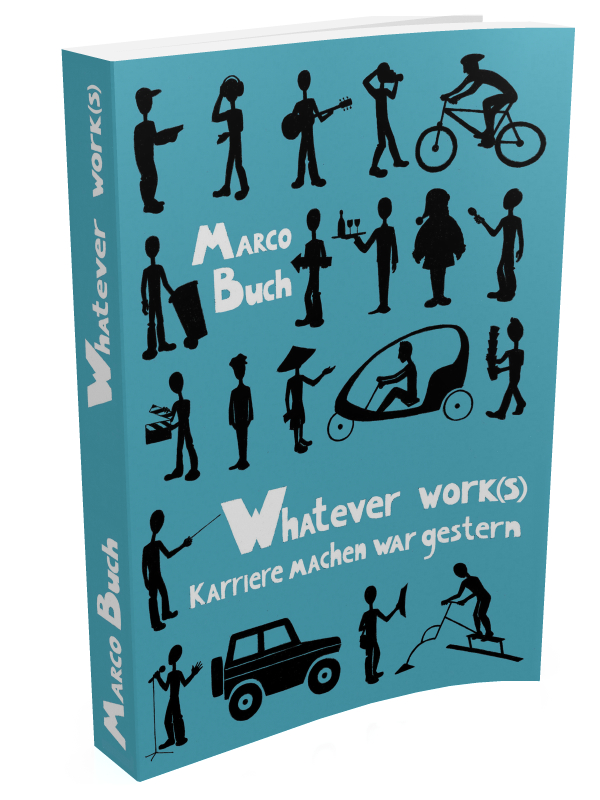 Over the years, the searches brought me to even the last corner of Berlin and its surroundings. In conversations, I realized soon that I knew more places in the capital than most locals.
A little later, I also started working as a location and production manager, and it was often very interesting to see which locations actually made it into the final shoots.
Of course, I often searched for extraordinary places, but sometimes, the task was 'only' to find a doorway or a florist. But even that would sometimes lead me to corners that had so much more to offer.
I have now gone through my personal database in search of exceptional locations in and around Berlin you might not yet know. I have a little anecdote to each location and in some cases even a link to the finished films. Et voila!
Berlin Architecture
Berlin is bursting with extraordinary architecture. But 'extraordinary', in this case, probably reaches from one end of the aesthetic spectrum to the other. Many of the usual suspects are known well enough. But how about the following places?
Philological Library of the Freie University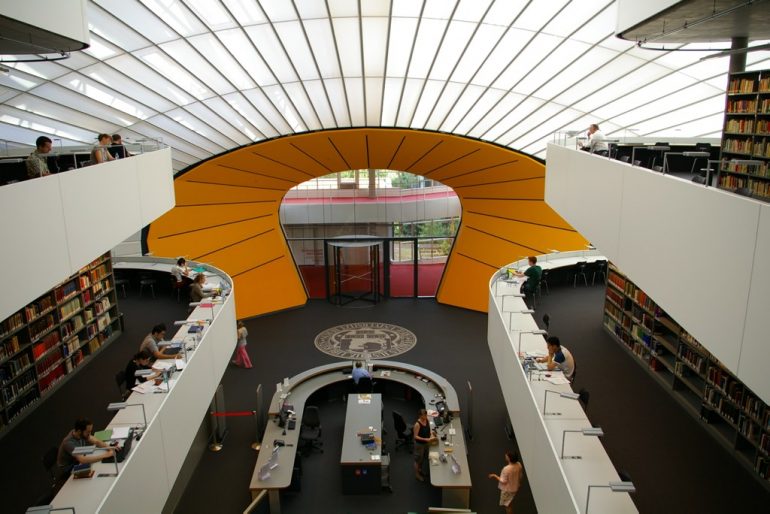 Even many a student of the Free University has never seen this exceptional library from the inside. But it looks like some kind of spaceship, absolutely trippy! It is the work of British star architect Norman Foster (also responsible for the dome of the parliament), which was not completed until 2005. Prior to the building of the library, the so-called 'rust alcove' really had little to offer to the eye. I remember well my own dreary studying down there in Lankwitz.
I have already photographed and suggested the library several times, but cannot actually remember that the place has ever been chosen for a shoot.
Animal Shelter Berlin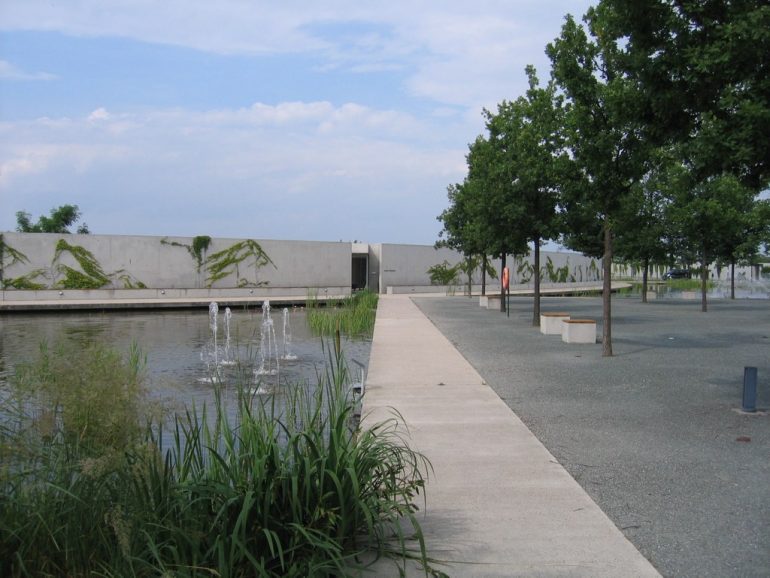 You wouldn't really expect exceptional architecture in an animal shelter. But this is Berlin, baby!
The shelter in Berlin Falkenberg (Marzahn area) has 16 hectares of land which makes it one of the largest in Europe. Its futuristic design of geometric shapes is the work of Berlin architect Dietrich Bangert. Besides the fact that the shelter is a real feast for the eyes, it offers a perfectly equipped home for temporarily homeless animals of all kinds.
A few years ago, I accompanied a photo shoot for Spanish fashion here. It may sound morally doubtful when models in expensive clothes are surrounded by hundreds of animals looking for a new owner. But in fact, the location rent goes directly to the animals and the things needed to make their stay bearable. That's why I would actually love to bring more projects here, preferably financially strong ones.
Berlin Stock Exchange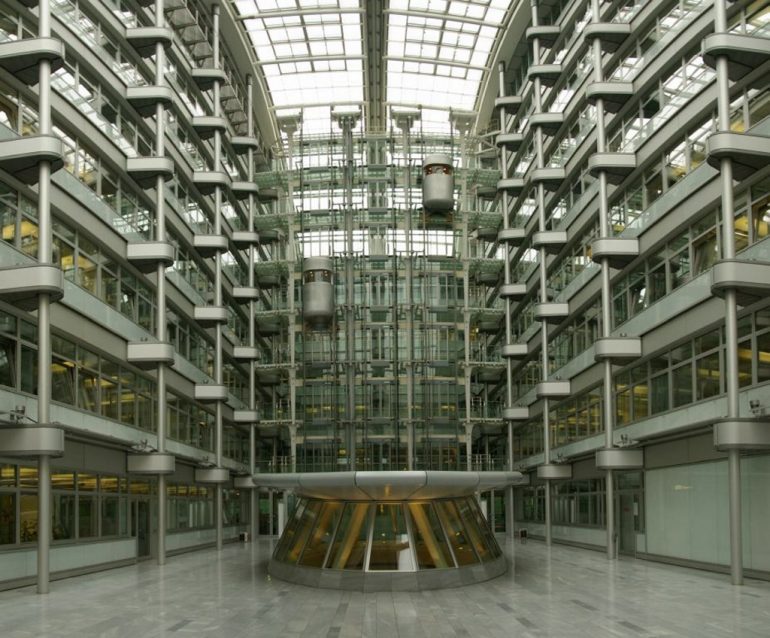 The Berlin Stock Exchange is often used to tell the future, particularly the large open hall with the futuristic elevators. Architect Nicholas Grimshaw has created the so-called Ludwig-Erhard-Haus, an absolutely extraordinary building, which knows how to impress optically both from the outside and from the inside. Model for the exterior look of the building was, interestingly enough, an armadillo.
If you want to see this truly special place, you can simply walk in. The building is also home to the IHK.
I have already filmed there several times. The most famous thing I did there was certainly a scene from 'Mr. Nobody ' by Jaco Van Dormael, where the hall is playing a hospital in the future. But I have to mention that, in this movie, I only worked for the so-called 2nd Unit (stunts and extras), while the filming in the stock market, was done by by the 1st Unit (the main team with the well-known actors such as, in this case, Jared Leto). I have worked 4 weeks altogether for this movie. The fruits of this stressful time take up an amazing 8 seconds (!) of the film …
Tree House Fischerinsel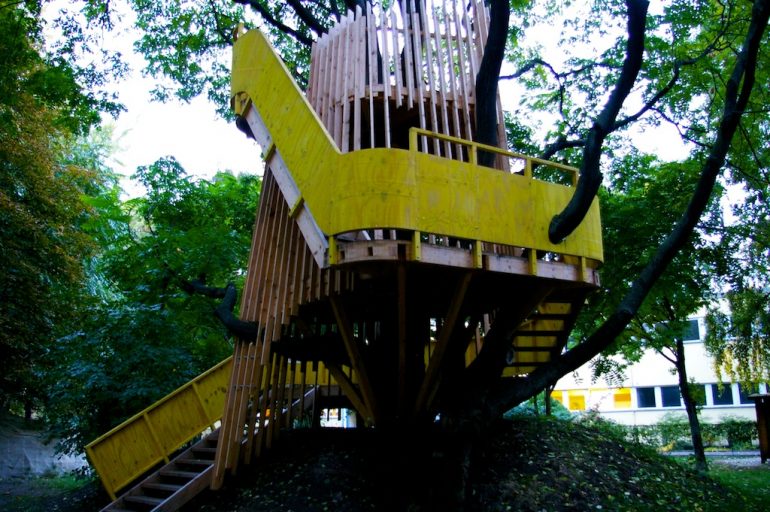 This tree house is not easy to find, however, it has already scored quite a few architectural awards. A work of up-and-coming architects Legeer, it is made entirely of wood and perfectly adapts to the foundation-giving tree. It is located on the Fischerinsel in Mitte, on a playground right between the two high-rise buildings. Once you're already there, you should also check out the boat museum next door.
I filmed quite a big TV commercial here after I had learned about this place through friends and then proposed it to the director. Unfortunately, the scene did not make it into the final cut after all. But the little film is nice regardless (and in one scene you can even see my hand;-)!):
Berlin ruins, lost places and dilapidated buldings
Dilapidated buildings and industrial ruins have become a lot scarcer in recent years. However, you can still discover some of these places, due to Berlin's wall history.
Former NSA listening station Teufelsberg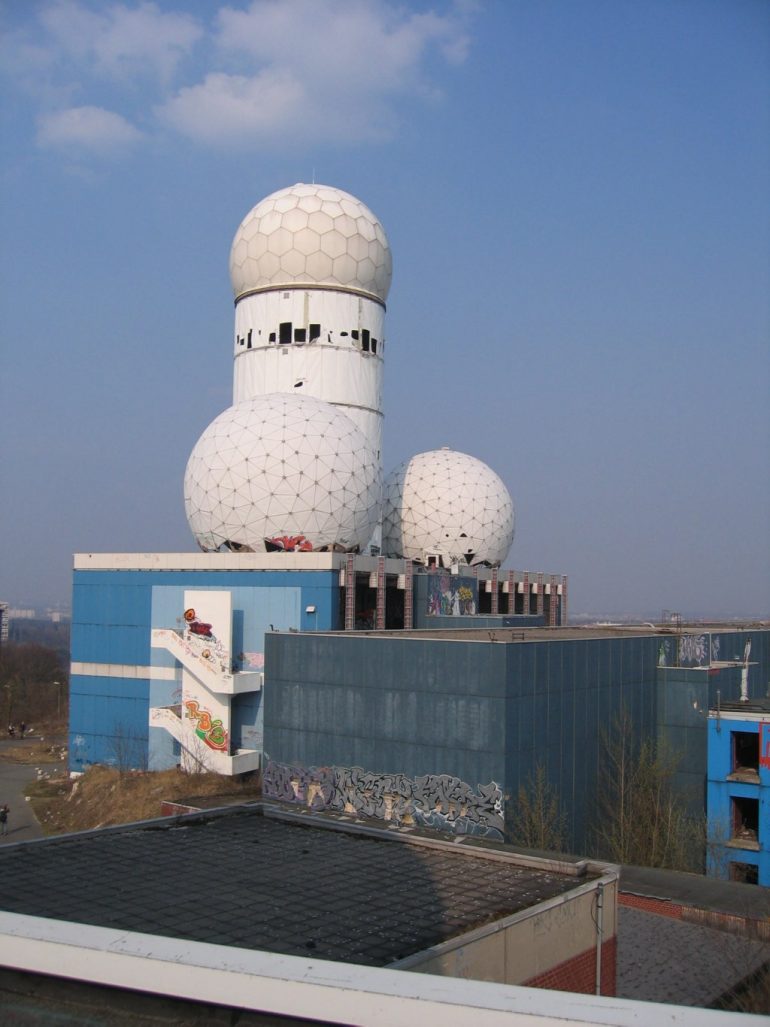 This place is no real secret anymore, now being recommended in virtually every guidebook as an insider tip. Also, it gets harder and harder to get into the grounds (however, there are now great tours!). But the former listening station of the Americans and British, left over from the Cold War still exudes an exceptional, apocalyptic atmosphere! Not to mention the unbeatable views over the entire city. Things get even more exciting when you learn that David Lynch recently wanted to buy the place in order to establish it as a spiritual headquarters for his sect!
Many people wanted to film here already, few have actually done it. I myself have filmed here only once – exhausted, half frozen and on my last leg: a scene of a very popular Levi's commercial:
http://youtu.be/pnNblizjuEk
Beelitz Heilstätten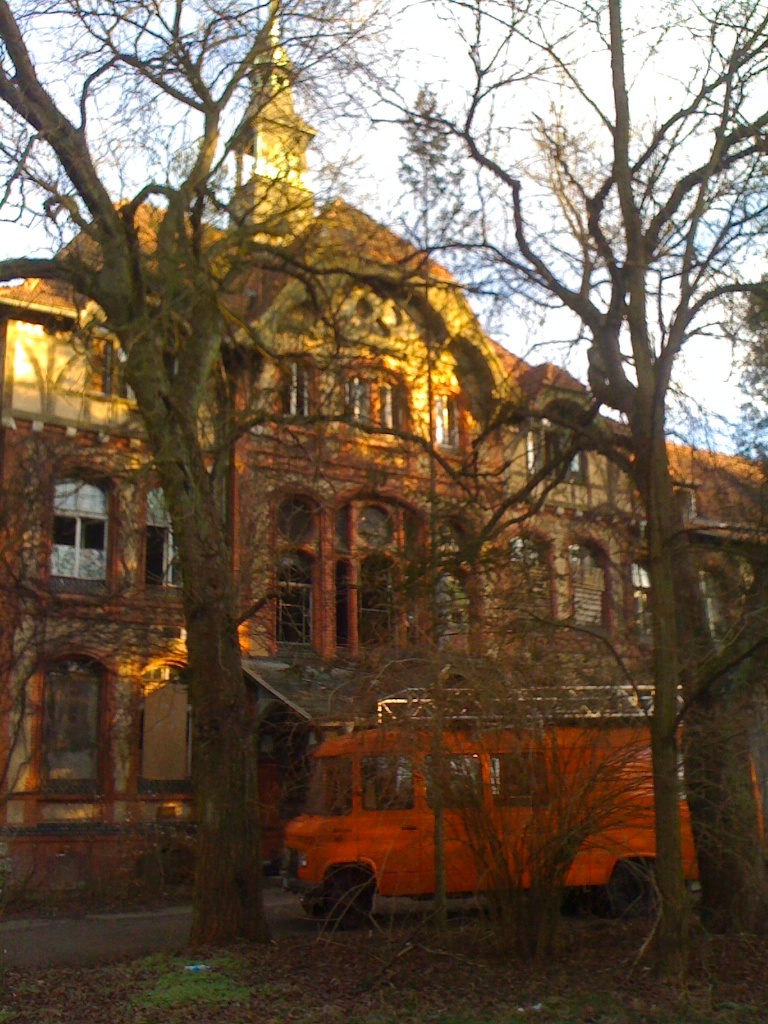 Just a little outside of Berlin (about 1 hour) you can find the fantastic ruins of an old sanatorium. It almost physically hurts that the large buildings are now completely rotting away, but unfortunately no one can be found who wants to pay for the repair. Although the area is fenced, unwanted visitors often find their way in. Among them are also some satanists who sometimes cut off chickens' heads in one of the hundreds of rooms…
You can book tours with a guide where you can learn a lot about the terrain (such as all the satanist stories). Or you can sneak in on your own which I explicitly don't recommend because it is illegal and also quite dangerous.
I have worked here several times, taking care of film and photo teams, while often meeting other crews in the extensive grounds. The last time I oversaw a Danish fashion shoot and had to fight with a rival photographer over one of the completely destroyed rooms! Very often the biggest challenge in jobs of this kind: The egos of the participants …
Melchiorstrasse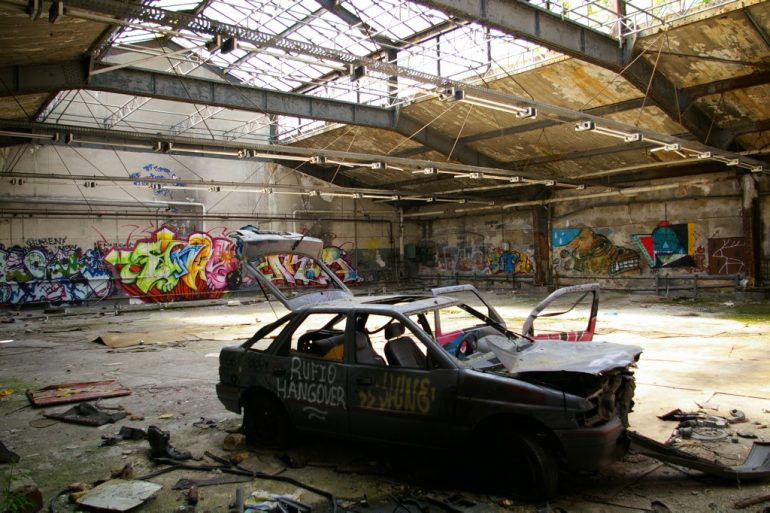 In the middle of Kreuzberg sits this huge ruin, a dead spot amidst the otherwise lively neighborhood. Maybe one of you has already spotted the squatted shell of a building in Köpenicker Strasse. The Melchiorstrasse ruin sits directly behind that. However, the entrance to this former post office is located on the opposite side.
And here you really cannot get in by yourself, unless maybe you are a parkour pro. But you can get in touch with the current owner of the land who has been in negotiations with the city of Berlin for a while, trying to find out what he can do with these sprawling grounds. If you're lucky, he hands you the key to the completely dilapidated premises and you can look around. But quite honestly, I'm afraid, a visit of this kind is reserved to location scouts like myself…
S-Bahn-Rondell Pankow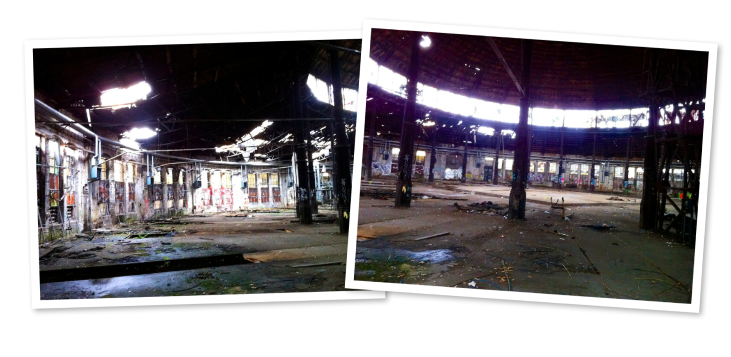 Every once in a while I passed by this exceptional place, an old train workshop. Every time, it had fallen apart a little more, and each time I wondered how it looked like inside. Last year I managed to finally get in! Visitors aren't really welcome here either, but ist fairly easy to get into the pretty destroyed building. Caution: You can very easily hurt yourself here! Overall, this whole area is rather weird and you can easily get lost. Right up my alley! You can find it directly at the stop Pankow-Heinersdorf (S-Bahn).
I have suggested the place for a fashion commercial once, but then had to find out that it is almost impossible to obtain a permit for this. So I will probably not suggest it another time.
Kraftwerk Rummelsburg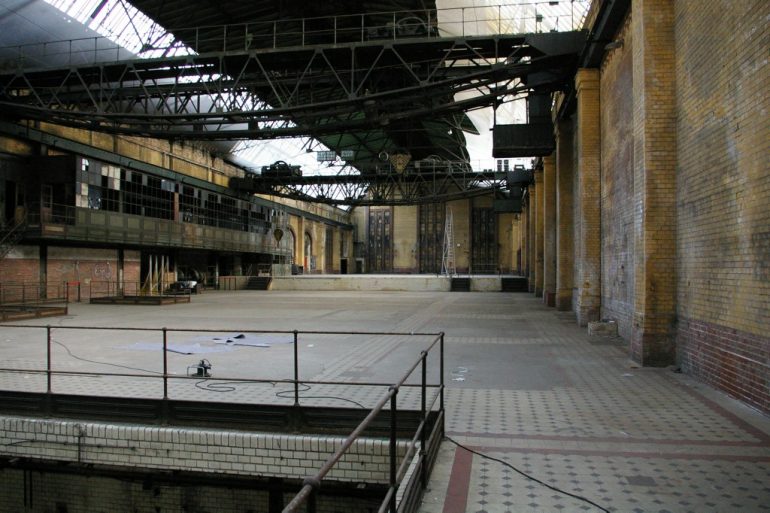 Also one of those places which is less and less secret. Besides, it will probably not continue to exist for much longer. Because the whole area around Oberschöneweide has been proclaimed the next big thing in Berlin already two years ago. Once you're there, you realize that it mighty actually still take a while before Oberschöneweide's fame. However, along the water of the Rummelsburger Bucht there are plenty of weird things to discover! My absolute recommendation for an autumn bike ride, easy to combine with the Berlin Wall Trail (Here is my complete route recommendation).
I recently filmed in Kraftwerk Rummelsburg for a bike commercial, its basement playing a packed, dusty dance club. Not far from it, we were preparing for a few stunt scenes of a Hollywood blockbuster starring John Cusack in 2007. Some of the stunt folks also responsible for the James Bond movies were cutting apart expensive Jaguar sports cars only a few blocks down the road! But then the whole thing, unfortunately, went bankrupt on the day before the main shooting began. A story pretty much everyone involved in the film scene knows about…
Klinikum Buch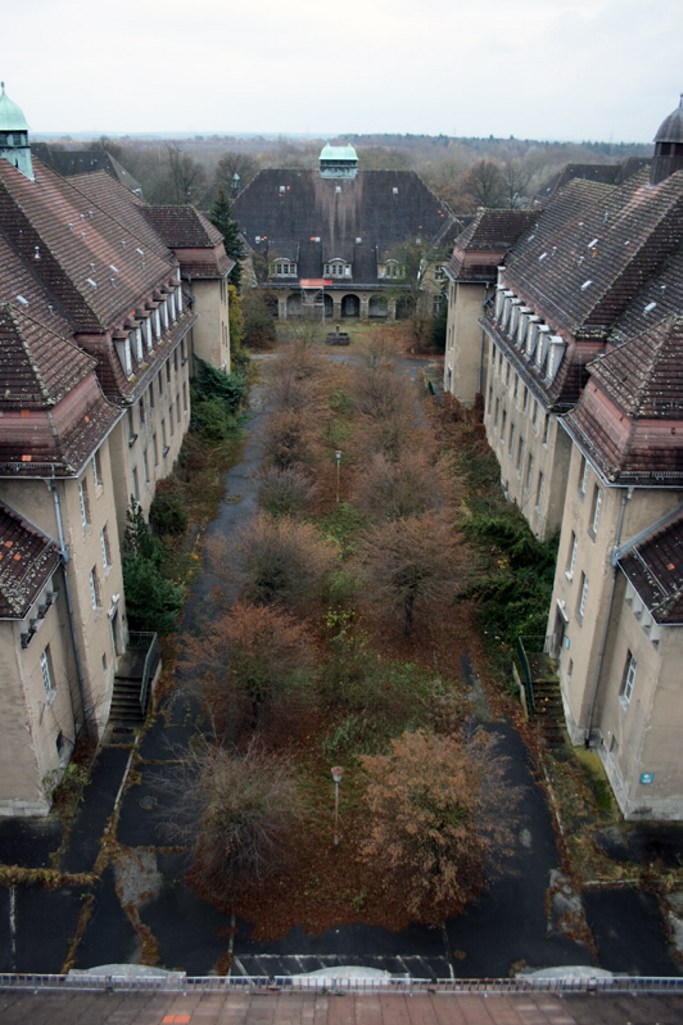 This former tuberculosis hospital in the village of Buch, not far from Berlin, was decaying for a while after the wall had come down. However, my research has just shown that it is currently being transformed into a huge living quarter. Well, I can probably take this folder out of my database then…
Spreepark Plänterwald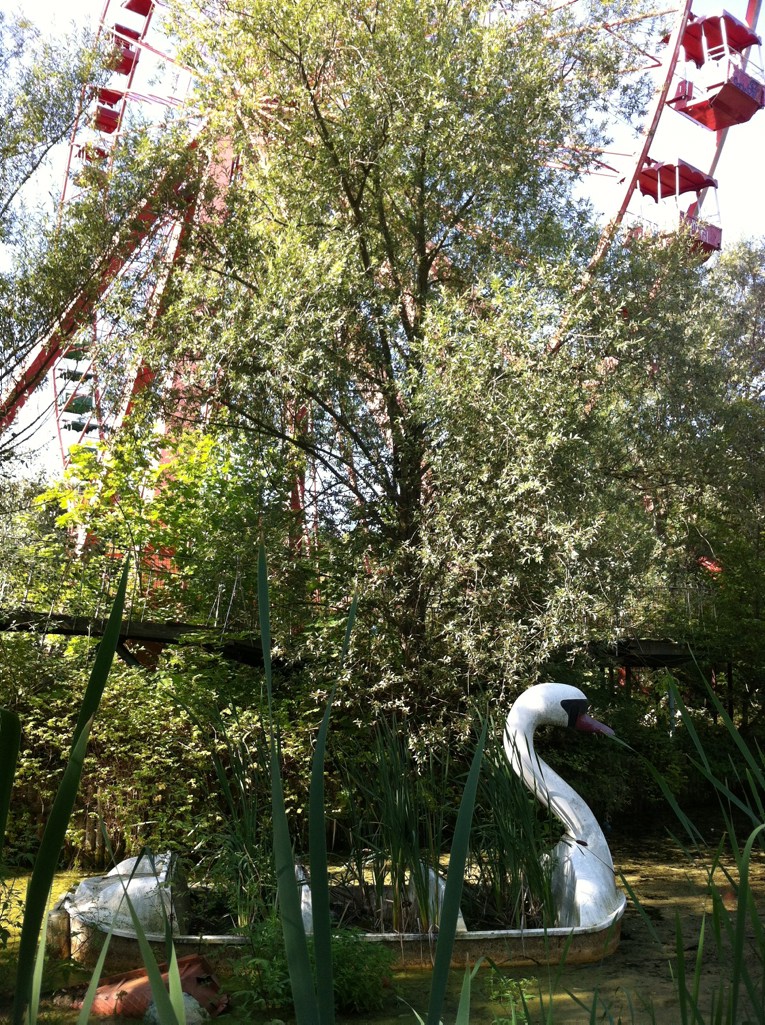 The Spreepark is another place that almost every tourist seems to be aware of nowadays. Again and again people find their own way into the premises, which I can not really recommend as there are security guards and vicious dogs. But even more important: If you explore the huge area along the Spree river on your own, you will probably never find out about the fascinating story behind it. That's why this is a place where I totally recommend a guided tour!
Innumerable scenes have already been filmed in this unique terrain, such as a long sequence of the great film Hanna. I have only taken care of a team for the shooting of a British fashion label, inspired by BDSM – an experience of a different kind. However, I was particularly impressed by the fact that you can move the giant ferris wheel with your hands! And what I also learnt that day: I need a pedal boat swan!
Anyone who is interested in the Spree Park should watch this film:
Bunkers in Wünsdorf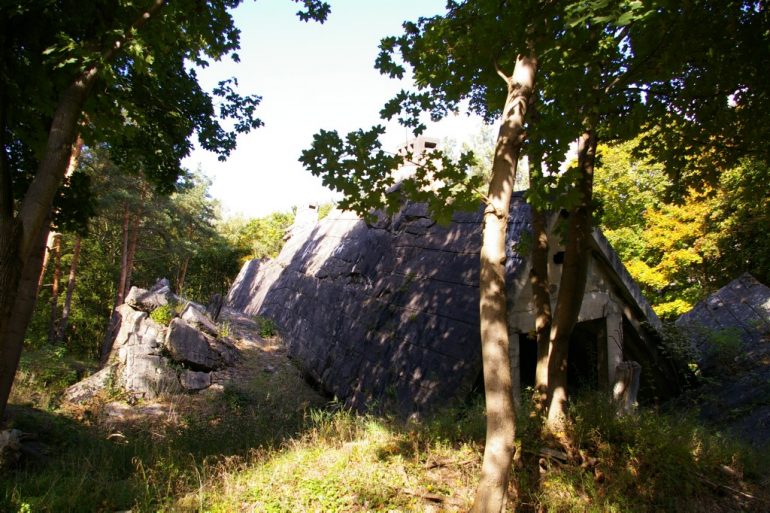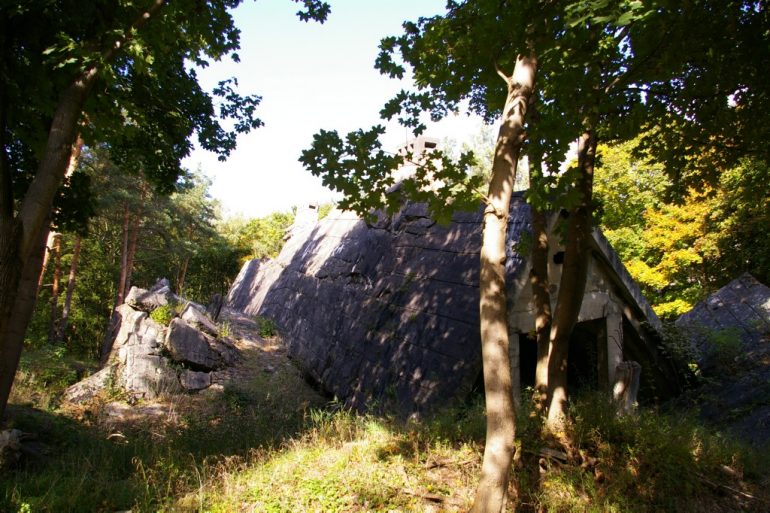 I myself have only recently visited the bunkers for the first time, working for  a BBC documentary about the 1st World War. I could not understand how this place had managed for so long to fly under my radar for weird places.
The spooky area, largely overgrown by trees is a witness of different epochs. I can wamly recommend a tour of the premises, including all the underground catacombs!
During the Nazi era, the bunker served as a news headquarters, and office of the Nazi top dogs. After 1945, the Soviets took over the facility and immediately blew up most of the bunkers. The site later became the headquarters of the Supreme Command of the Soviet occupation forces. Today, there are plenty of places and museums to visit in the whole area. Moreover, Wünsdorf has become the so-called Book Town. In three major Antiquarian houses 350,000 old books of all disciplines await your visit.
Unfortunately, the documentary is not online anymore.
Heizkraftwerk Klingenberg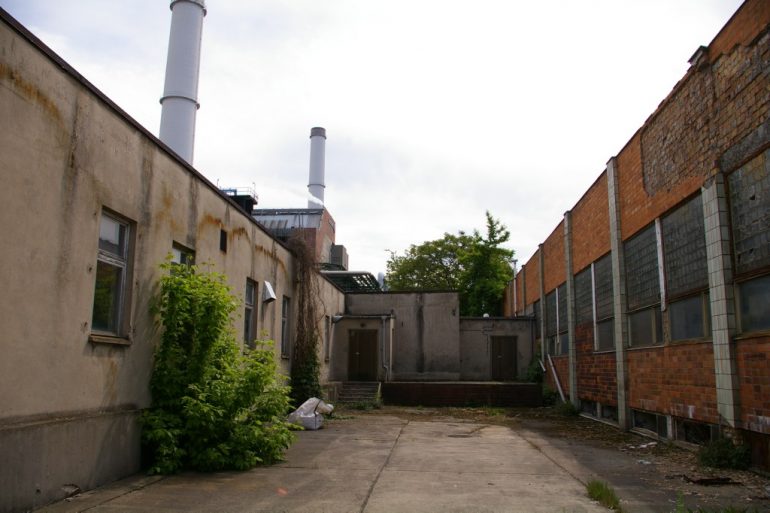 The Heizkraftwerk Klingenberg is a fully functional heat and power station, serving large parts of the city with heat. However, the huge terrain offers many corners which are not in use anymore, some of which have been rotting away for years. All of that – plus the openness of the staff – make the place a popular filming location.
A few years ago, I filmed a rather unusual commercial for a Steven Spielberg series here. Back then, I spent almost a week on the premises.
Portuguese artist Vihls detonated its pieces of art into some old walls there which was quite a sight, but also a logistical nightmare. But everything went fine after all and the result is a film which I still love to show everyone!
Berlin bars and hotels
Dom Aquaree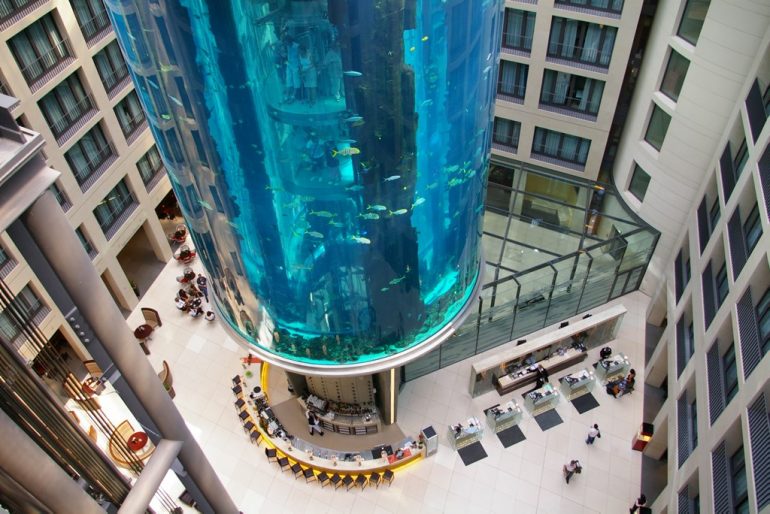 Many people walk past this very centrally located hotel without expecting anything special inside. But, in fact, it hosts the biggest freestanding aquarium in the world! Right through the middle of this aquarium, inhabited by many exotic fish, runs an elevator that offers entirely new perspectives.
I have suggested this hotel many times. And recently I finally also filmed there briefly for a funny commercial:
Bar Tausend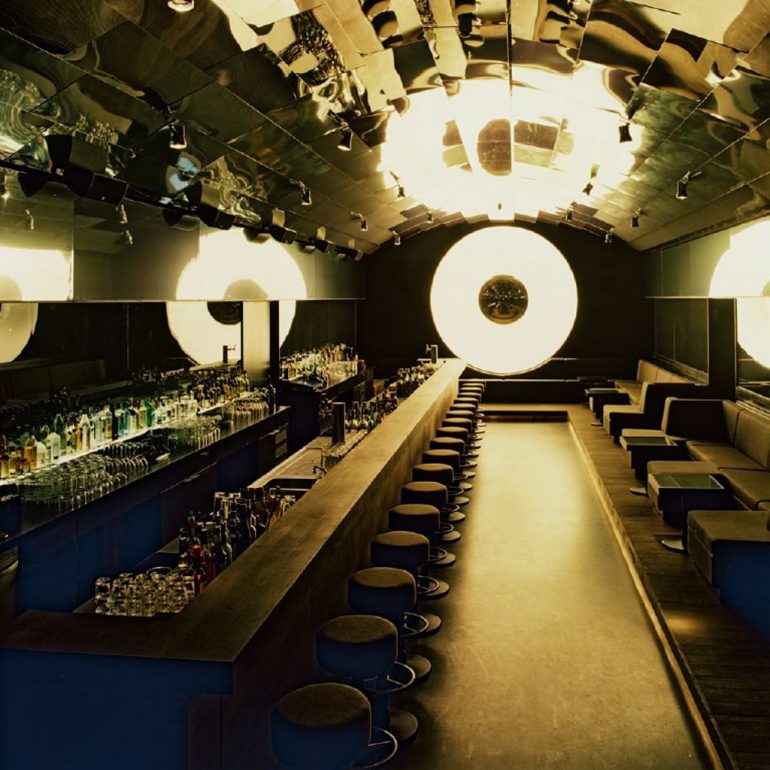 An insider tip among Berlin's bars, also because its entrance is a little hard to find. Good drinks, good concerts, quite a special clientele. That's how I would sum up the place.
I have been here many times during the day for taking pictures. But I cannot recall actually filming there.
Ballhaus Berlin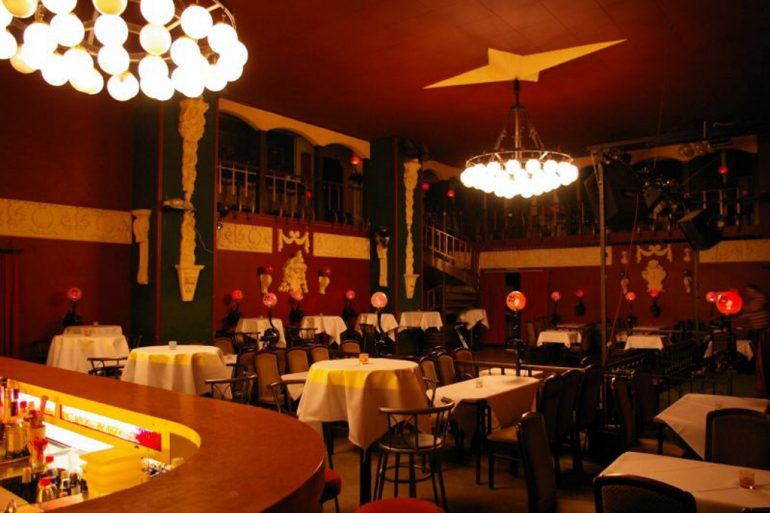 Once I had to search old ballrooms for a project. And there are actually still more around than you would think.
This ballroom in Chausseestrasse has its own unique charm. Shortly after crossing the doorstep, you feel set back by decades! The greatest thing here: Each table has a telephone from which you can call any other table!
Since I can not remember at all what I scouted these ballrooms for back then, unfortunately I can't recall filming there either.
Berlin nature
Wasserturm Prenzlauer Berg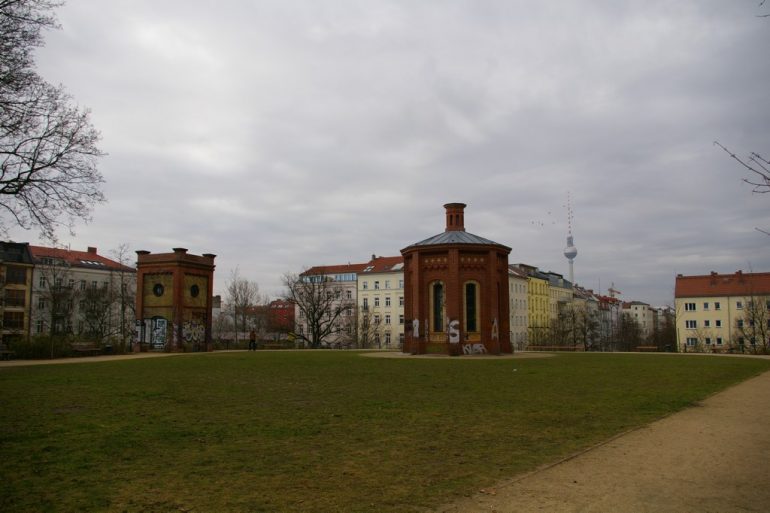 It's easy to miss the small park around the Wasserturm as it's a little elevated. But it is one of the most idyllic corners of the city and has become even nicer over the last 10 years.
For a while, I organized all shoots for the English comedian Dave Packer, a very enjoyable and fun job. He is actually the only one who used the Wasserturm for one of his films:
Volkspark Prenzlauer Berg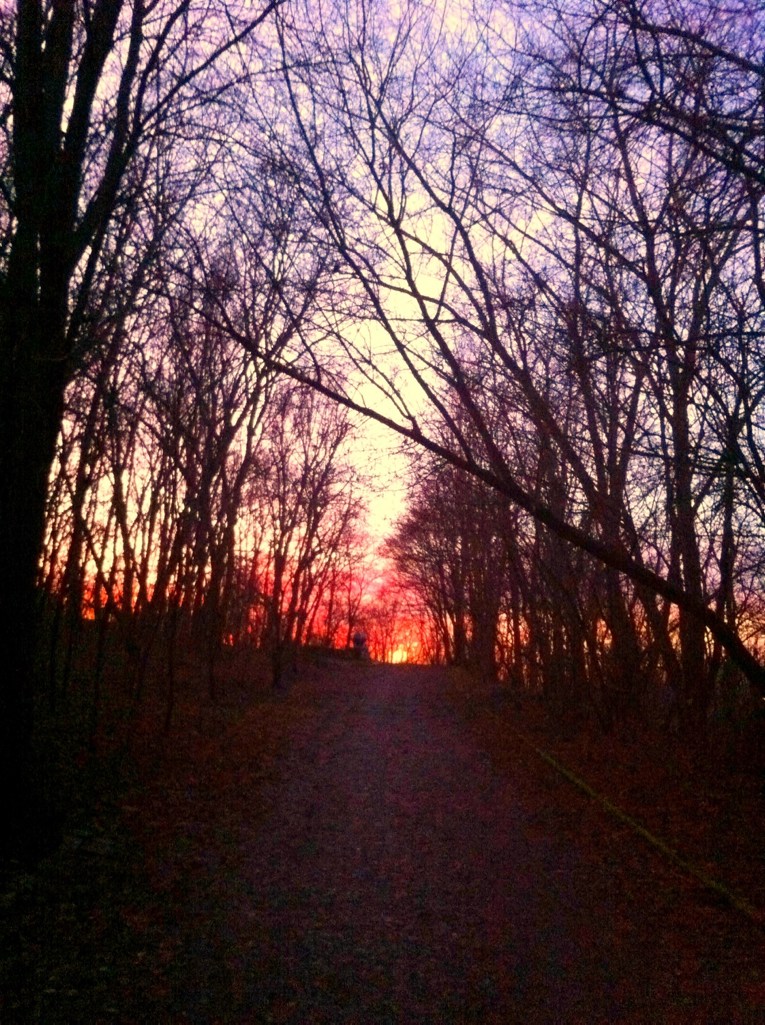 No, we're not talking about Volkspark Friedrichshain here. And no, this park actually isn't located in Prenzlauer Berg, but rather in Pankow.
But I personally think it is the most beautiful park in the city, especially as hardly anybody knows about it and as the city lets it grow how it wants to. My suggestion: Go there in June and you feel like being in a jungle!
I have suggested the park numerous times, at the latest for a Dutch music video. After considering it for a while, they decided not to use it in the end, as they wanted a more urban feel. The video turned out nice anyway:
Berlin locations which are hard to categorize
Dentist Kudamm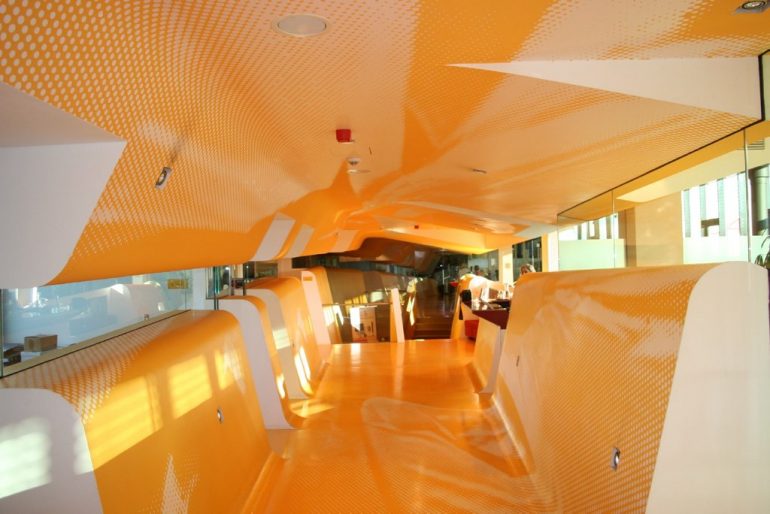 If your tooth is aching, I suggest you check out this dentist. And not only because you feel like in a giant spaceship here. It is the most luxurious dentist surgery I have ever seen – the waiting room comes with a fireplace, a huge selection of magazines and very tasty coffee varieties.
I have already been here twice. The first time, the production assistant on a documentary about Marianne Faithfull all of a sudden had horrible toothache. The people here cured her quickly.
The second time, we came here with the crew of 'Mr. Nobody', see the trailer above. How would you not wanna use this dentist for a film that takes place in the future?!
War Memorial Pankow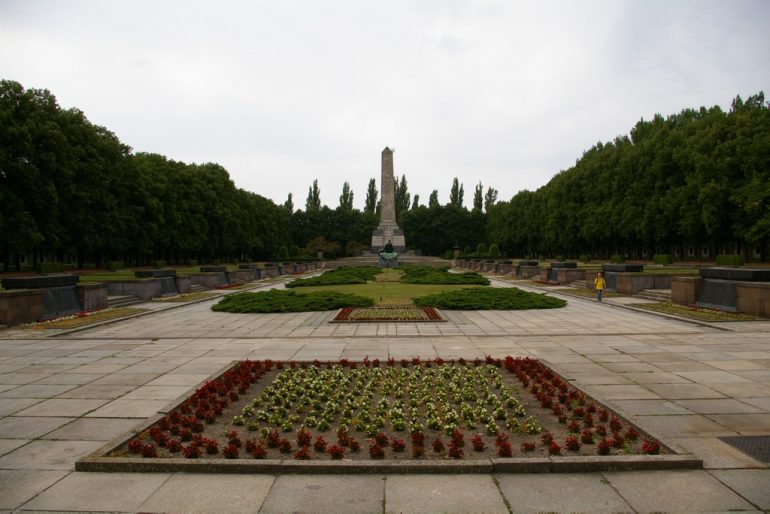 You might know the Sowjet War Memorial in Treptow. But do you know this one here in Pankow? When I saw it for the first time, I had the feeling that I was one of the first people ever to see this impressive monument.
I guess that getting a permit for filming here is very unlikely. Plus, it wouldn't really fit into any concept. And so I've only discovered the place by accident back then, during a break while scouting lamp shops and family homes…
Roof terrace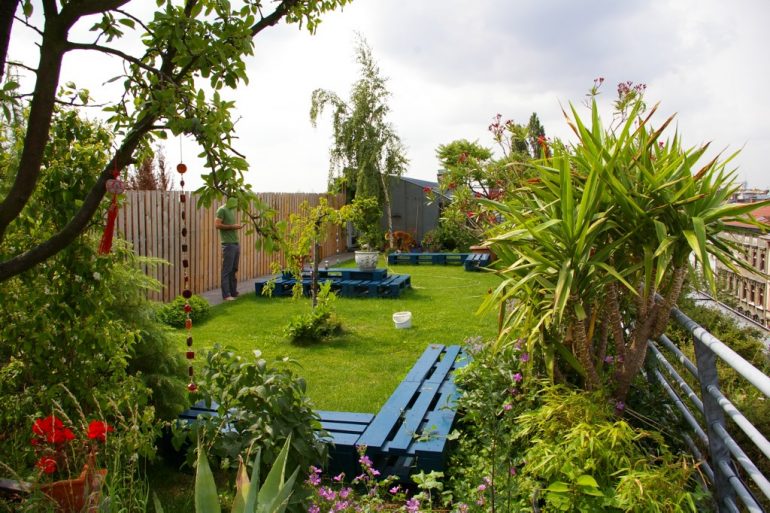 Roof terraces – in summer, many productions look for such a location. And every year, there are more of them popping up. This one here is fantastic – and private. That's why I can't actually tell you where to find it…
Church in Wrangelstrasse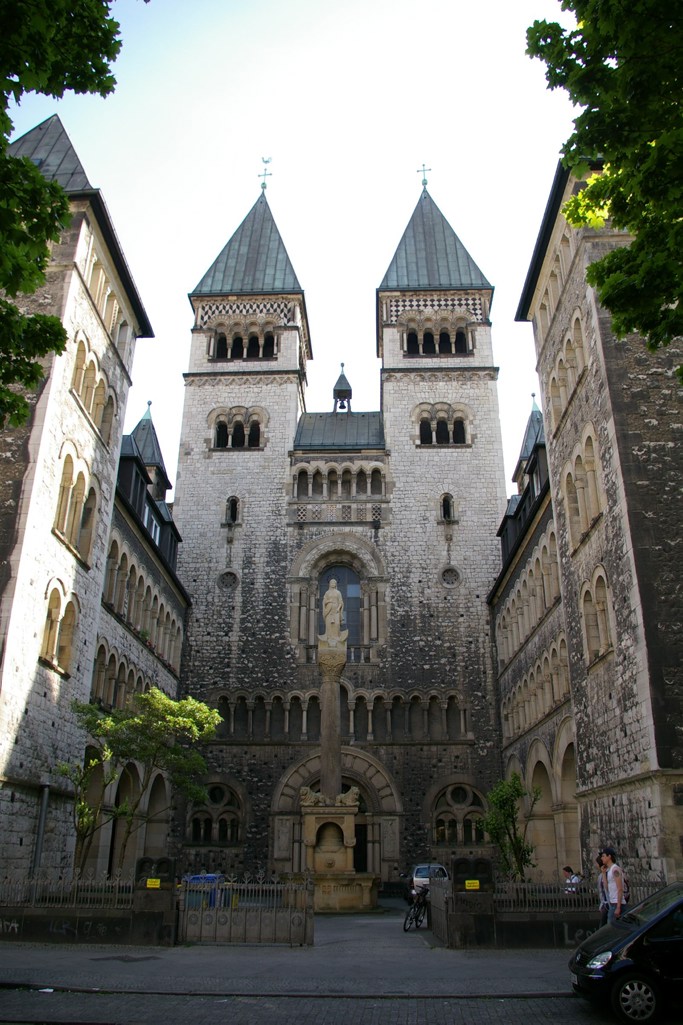 Recently, I was out scouting brothels for a music video of the band Rammstein (no joke). While doing that, I passed this church I had never seen before.
Isn't she an exceptional beauty?!
Berk Autoverwertung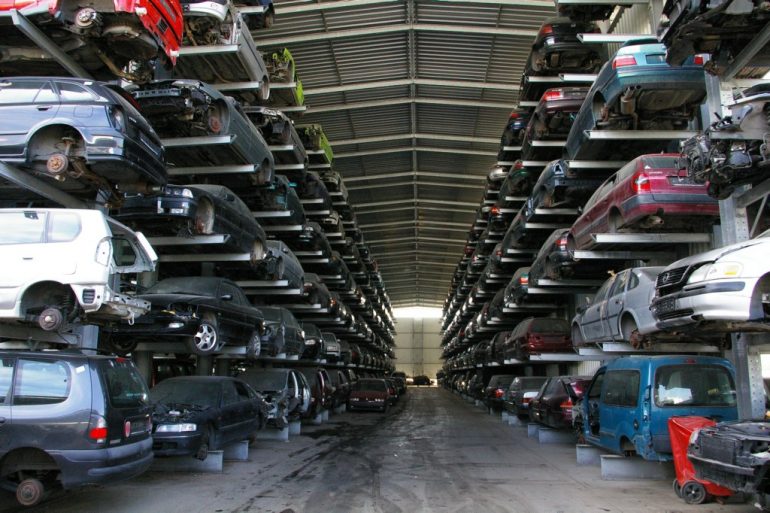 Well, and being a Location Scout sometimes even means looking for junkyards!
And this here is one like no other one I have ever seen. Each of the thousands of parts is in its right spot. A great example of perfect organisation!
I have suggested this junkyard once for an American TV series which, for me, marked the start for several unusual productions in the following years. We ended up filming in a smaller junkyard in Brandenburg. However, I frequented this junkyard here quite a bit in order to get spare parts for the wrecks the cast took to Africa:
You are interested in Berlin? Check out my other articles about the capital:
Recommended without reservations: A bike ride on the Wall Trail
And for stories from Berlin and all over the world, check out my books !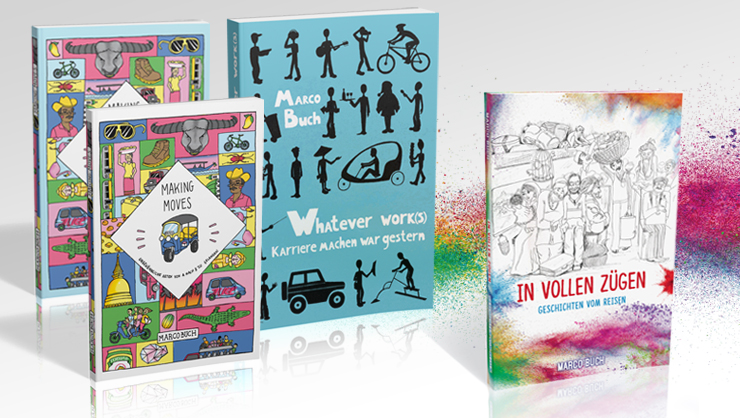 MerkenMerken
This post is also available in: German