Renting an Enfield in India is a fascinating way of getting to know the country. You get to see places other tourists won't ever visit and meet locals that are completely unspoiled by tourism. If you decide for renting a motorbike in India, you should definitely ride the Indian way: On Royal Enfields. In short, Bullets! These bikes are beautiful, fairly reliable and an amazing experience altogether. Renting an Enfield in India is not too difficult. You just need to take a few things into account.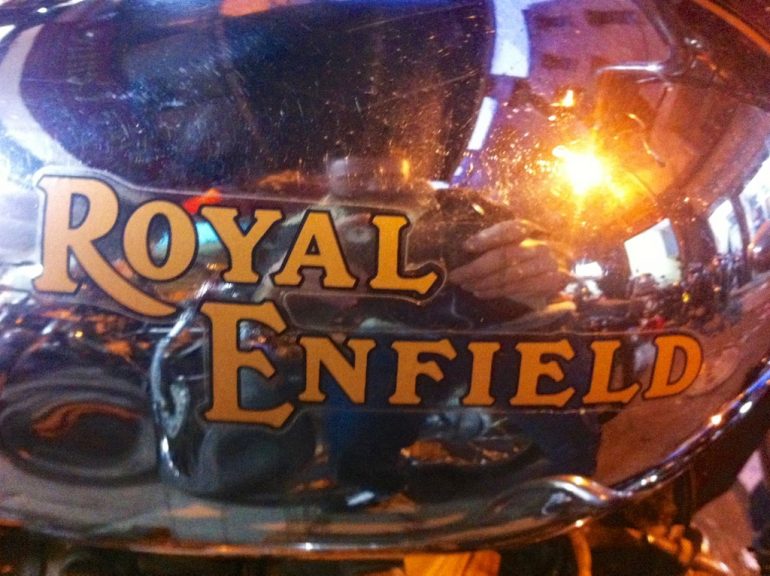 Renting an Enfield in India: Preparations
Luggage
The best you can do is leave all your heavy luggage at your starting point. Most motorbike rentals require a return of the bike to the original spot, so you will come back at some point anyway. And come on, you don't really need all those ten sets of clothes on a bike! If you don't know anyone in the city where you rent, ask at a hostel. Many will keep your luggage for free when renting an Enfield in India. Add a little tip, and you can be sure that nothing is gonna happen to it in your absence.
Clothes
Depending on the time of renting an Enfield in India (and your destination, obviously) you will need to bring a few layers of clothes. If you are starting from Delhi, go to the markets and shops in the Karol Bhag area where you can find pretty much everything for a good price. We drove in February, one of the coldest months, so we bought long underwear, warm socks, face masks and scarves before we took off. In hindsight: A very reasonable decision! One of the best shops on the Main Bazaar Road  in Karol Bhag is a second-hand jacket dealer. You can find real gems here and nothing is more expensive than 500 rupees (€ 6). My friend John dug deep into the pile of jackets and found a North Face windbreaker for no more than 450 rupees! Coming from the train station, the shop is on your right-hand side, after about 400 meters.
Enfield in India: The right rental place
Well, of course I might not be entirely right here, but at least this is what we've been told: Among the 50 or so places for renting an Enfield in Delhi, there are only about three which are OK. Go try the other ones and let me know your experiences, but don't complain about getting ripped off later. But this decision is not only about getting ripped off, it is also about the safety of the bike you are getting. So basically, it is a decision which might affect your life.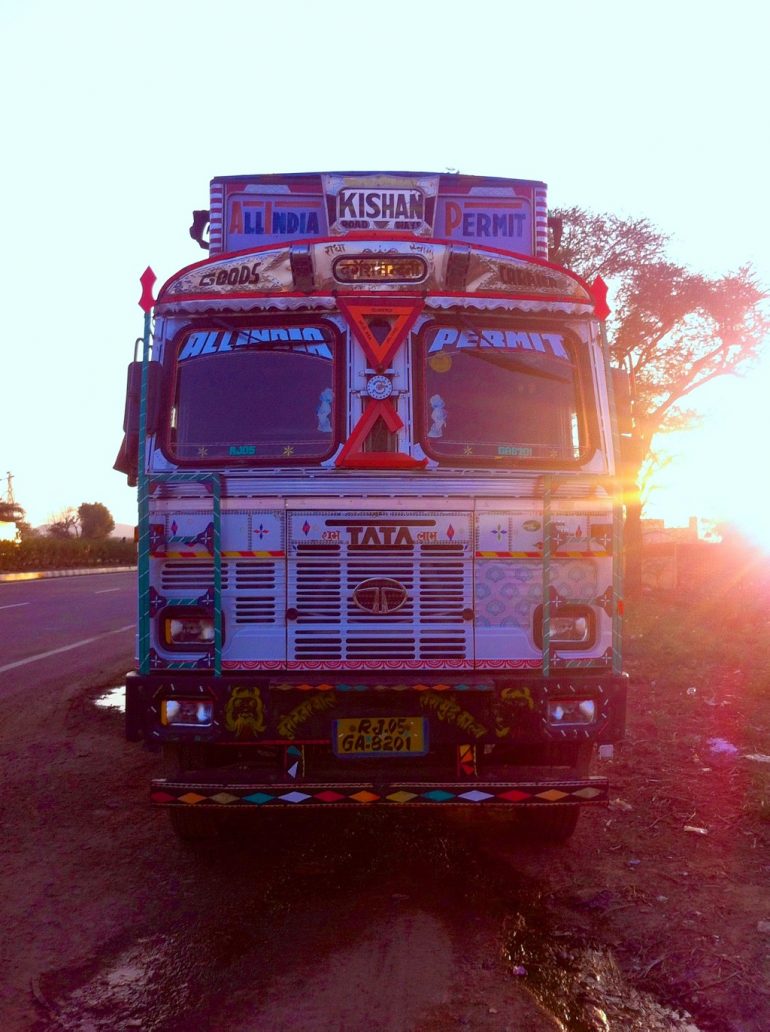 I can warmly recommend Tony Bike Centre. They have a great fleet, many years of experience, a well-equipped shop and they are generally very helpful. They have been recommended to us from all sides, even by other rental places, which I took as a very good sign. Make sure you talk to Rajesh, he knows everything!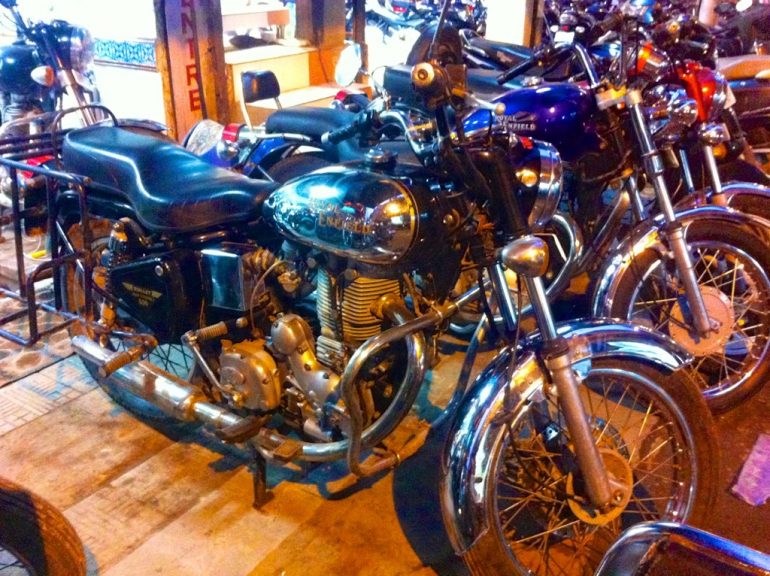 Before you go – Checklist
Ask the rental place to put a luggage rack onto the back of your bike. That way, not only won't you have to carry anything on your back which can be very annoying. Also, you add a little crush zone in case you hit something sidewards. Just watch out though, you are a lot wider than you think now! You can buy bungees for securing your luggage inside the rack in the small shops of the motorbike area.
Decide for a bike! If I were you, I would not save the € 3/day by taking a bike with a smaller engine. I'd go for the big machine, 500cc! Two main reasons: 1. In the madness that is Indian traffic, some extra horsepower can never harm. 2. It's so much more fun! The 500cc Machismo (what a name!) will cost you about 1200 rupees (€15) a day. Don't forget to bargain, especially in low season! But trust me, these bikes are worth every cent.
Make sure to have enough cash with you. The rental place will ask you for about 40.000 rupees (€ 500) deposit for a big bike. Basically, they want to be sure to be reimbursed in case you do not come back for some reason – be it an accident or the sudden decision to drive the bike back to your hometown… There is an ATM not so far from Tony Bike Centre. But it only gives out 10 k at a time. So you will have to spend quite some time there. Important notice: You can also put the deposit down in any other currency!
Very important: Thoroughly check the bike before you go and write down any damage you can find. Even better: Take a picture of the damage. It is India after all, so the likeliness of getting ripped off later is high (sorry for saying that, but that's just the way it is). The only way you can avoid paying for a damage that you are not responsible for is to detect it before you go. We are also talking about minor scratches here.
Even more important: Check if all important features work properly. You will have a test-drive before you go. Check: All lights, brakes (!), all cables, tire profile (!). Plus anything else you can imagine. Also: Check the rear chain ring. If there are any teeth missing or it looks very used, have them replace it! Anything that does not look safe, have them replace it or fix it before you go. It is your life that depends on it! Or, at least, your deposit…
Make sure you have all the papers with you before you go. The papers basically state that you are the owner of the bike, very important for police checks. (However, police did not seem interested in us at all.)
Take enough helmets. If you are not sure if you will take people along while renting an Enfield in India, just bring an additional one. They are easy to tie to the luggage rack and the rental place has plenty. Also: Check if the helmets are good!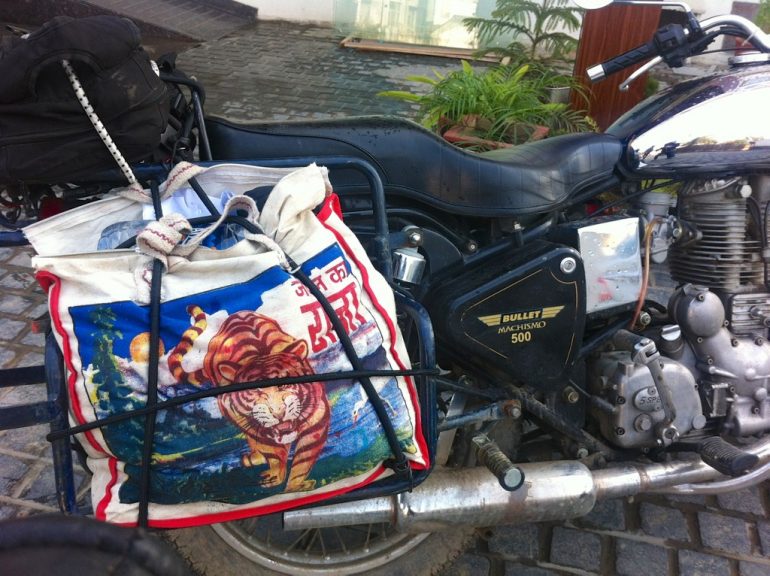 Renting an Enfield in India: Getting on the road
You are now ready to go! Go start the beast! Once you fire an Enfield up, you know immediately why you are doing all of this! The sound of these bikes is just amazing, evil and strong. Yet, they feel really smooth under your ass. Quite a good combination if you ask me.
Make sure you do a last check if you have everything important with you and if all your luggage is very tight (things easily come lose on the bad roads). Then, finally, become a part of Indian traffic!
Things to keep in mind on the road
Indian traffic is insane. Period. However, once you are inside of it, it somehow makes sense. Like some organic process. But you need to stay focussed if you want to survive. Seriously.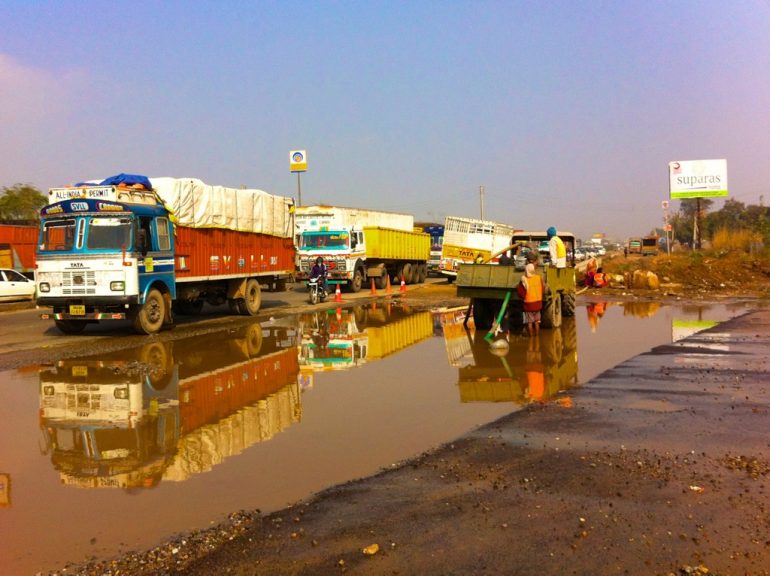 Traffic lights are often ignored. So are pedestrian crossings. I'm not telling you to do the same, just be aware that there might be people coming from all directions, even if lights show a bright red…
The stronger vehicle has the right of way. More important: The stronger is never you! Be prepared to leave the road in the worst case. I had to do so once when there were two busses heading towards me. Seriously, had I not driven into the ditch, I would not be writing this article right now.
Our experience was that going a little faster than the rest actually helps not getting stuck in the traffic jams. It is also important to know that overtaking can be done on both sides.
Always watch out for creatures of all kinds jumping onto the street: People, dogs, cats, cows, rats, monkeys, camels(!), elephants, …

Monkeys – crazy and often vicious

Speed bumps: Always watch out for signs on the road. You do not want to hit one of those concrete bumps full speed on a motorbike. Even on a bike as heavy as an Enfield. Trust me!
Speaking of heavy: Do not let your bike fall to the side. There is zero chance you will be able to pick it up on your own! I had all the staff of a restaurant help me bring my bike back to straight position. A little embarrassing.
Road toll does not apply for motorbikes! Just always go to the far left and you will find a small lane for bikes to pass by.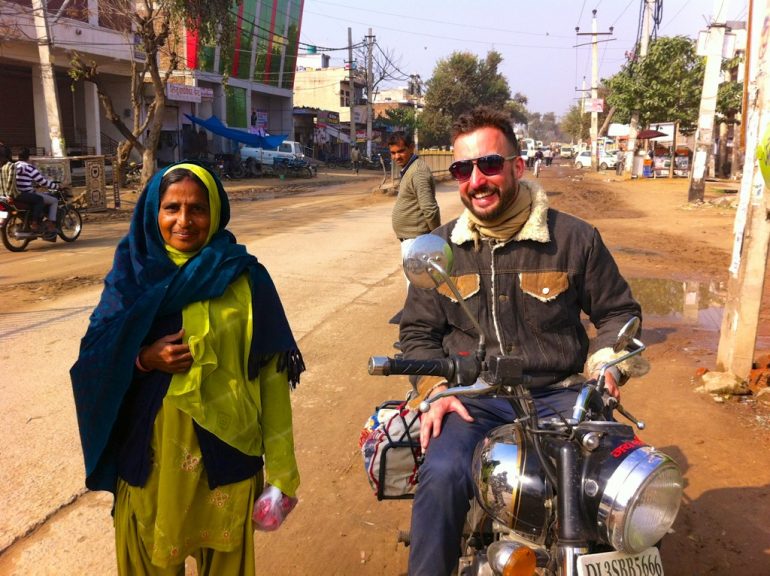 In general, it is a lot better to take smaller side roads instead of the so-called highway. The roads might be worse, but you will encounter a lot less traffic which makes up for everything. Plus, the chance of meeting locals is much higher.
Having wifi in even the remotest areas is not a phantasy anymore! Get your 10% discount with the code LIFEISATRIP!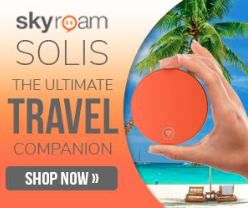 Renting an Enfield in India: Route suggestion
So if you start from Delhi like we did, obviously you have a multitude of options. Everything depends on the time you have and on what you would like to see while renting an Enfield in India. But I can only recommend the route we took, straight through my favorite Indian state of Rajasthan, and with quite a few amazing sights in a rather short amount of time and distance! This route took us five days, but can, of course, extended to more days.
Day 1: Delhi – Alwar
Try to survive Delhi's traffic, then head Southwest. You can take the highway from here, but it is always packed. Besides, I need to quote a Delhi expat here: "Indians are really good at bad driving." Nothing to be added.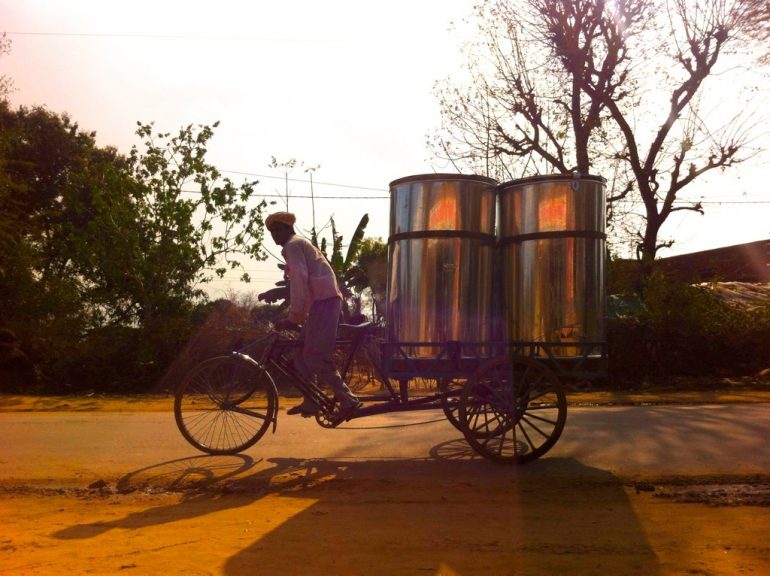 Riding on the smaller roads, you can take your time. This will get you to Alwar in the late afternoon. We stayed at Aravali Clarks Inn which was extremely good value. Rooms are nice, hot water takes a while though. But the staff is super-friendly and very funny. The food was great and, during dinner, there were two guys playing the sitar and tablas. Perfect!
Day 2: Alwar – Jaipur
Don't miss Alwar's spectacular Old Town! We found it by accident and it was maybe the highlight of the whole trip. There is an old palace with many impressive buildings surrounding it. The best about it: There is noone there but you! You will only meet local kids playing cricket, asking you to add them on Facebook (don't, if you're not a fan of ten messages per day…).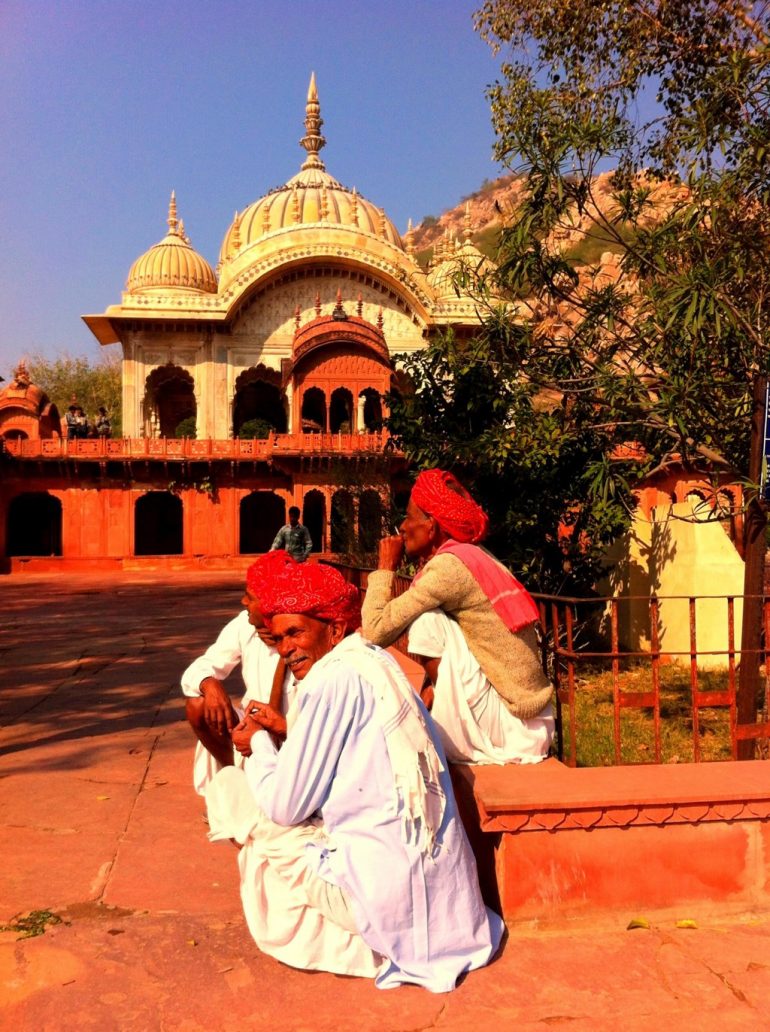 The road from Alwar is empty and mostly in alright condition. Just watch out for the thousands of monkeys living at the side of the road! People are throwing them carrot pieces from their cars and they sometimes run onto the street. Alternatively, you can take the highway. Less monkeys there, but a lot more cars. I don't know which is worse.
If you have enough time, stop at the Tiger Reserve. Jeeps for tiger watching leave at around 2 PM. We have not done it, so I can't say if it's worth it or not. What is always good though is a stop along the road for something to eat or a chai and a beedee (a tea and an Indian cigarette) with the locals!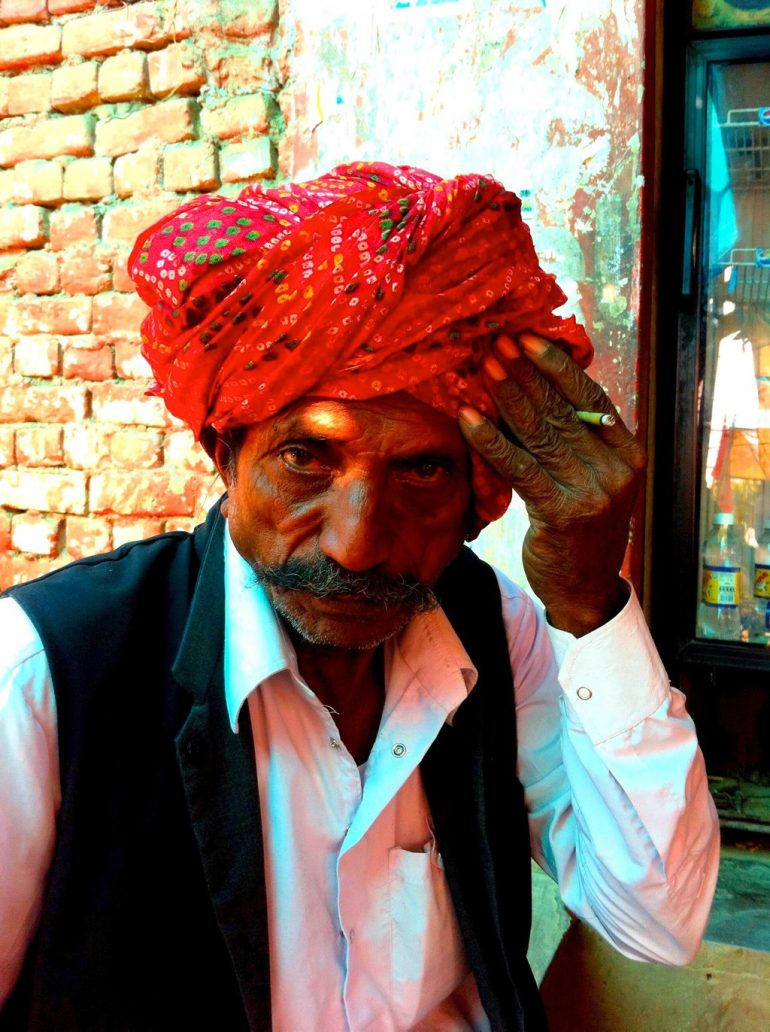 For the last bit of the distance, enter the highway. Drive all the way to the incredible Amber Fort. If you get here by sunset, you won't be able to enter the interior rooms. However, it is very well worth just walking around the yards between the high walls.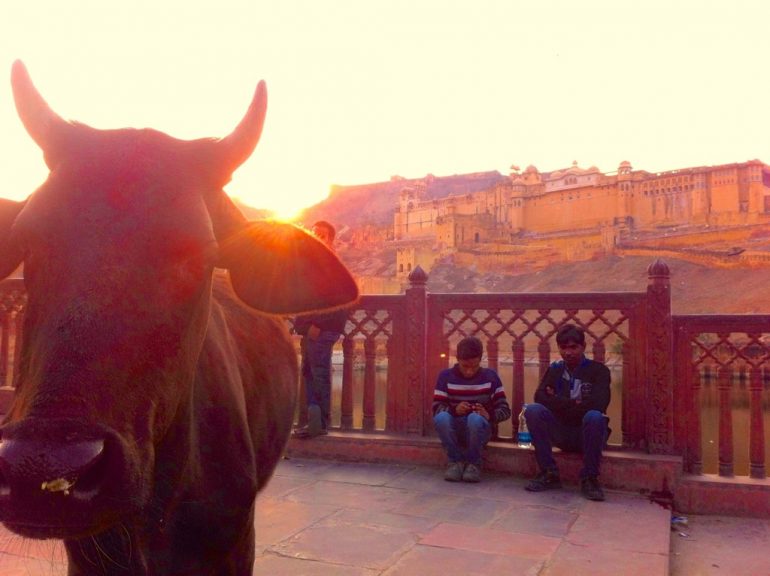 The last bit of the drive is quite bad, especially if you do it in the dark. Jaipur has the worst traffic I have ever seen! Watch out for idiot Tuk Tuk drivers. They won't stop for you…
Find many hotels at Tonk Road. Definitely go for one with a roof terrace! We liked the Pink City Home Stay a lot.
Day 3: Jaipur – somewhere
Take your time to explore Jaipur. There is a lot to see. Temples, markets, the Pink City, Jantar Mantar, and much more. Jaipur also has a very special atmosphere. It is a place actually worth staying another night. So if you have the time, opt for that.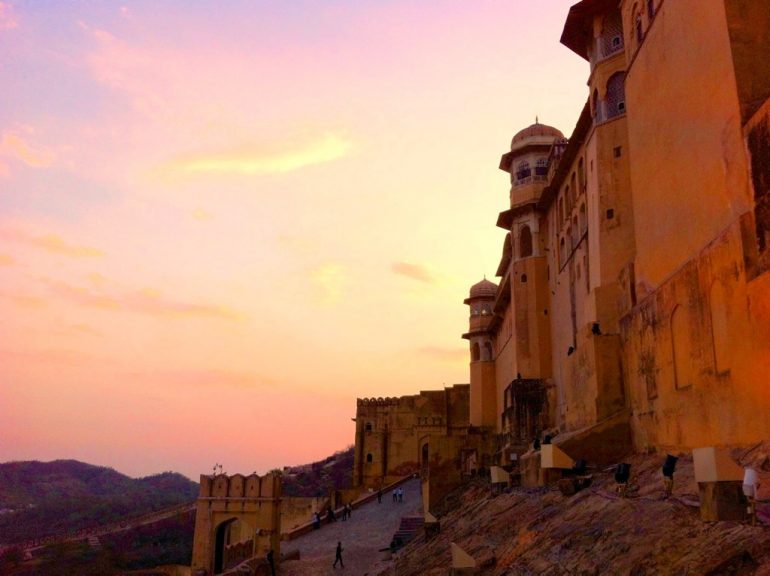 Plan in some time for leaving Jaipur, as the traffic is probably even worse during the day. You want to head East from here, in the direction of Agra.
Just see how far you get, especially with some more forts and palaces along the way. I would definitely not go further than Fatehpur Sikhri, as this place is very worth visiting for a few hours.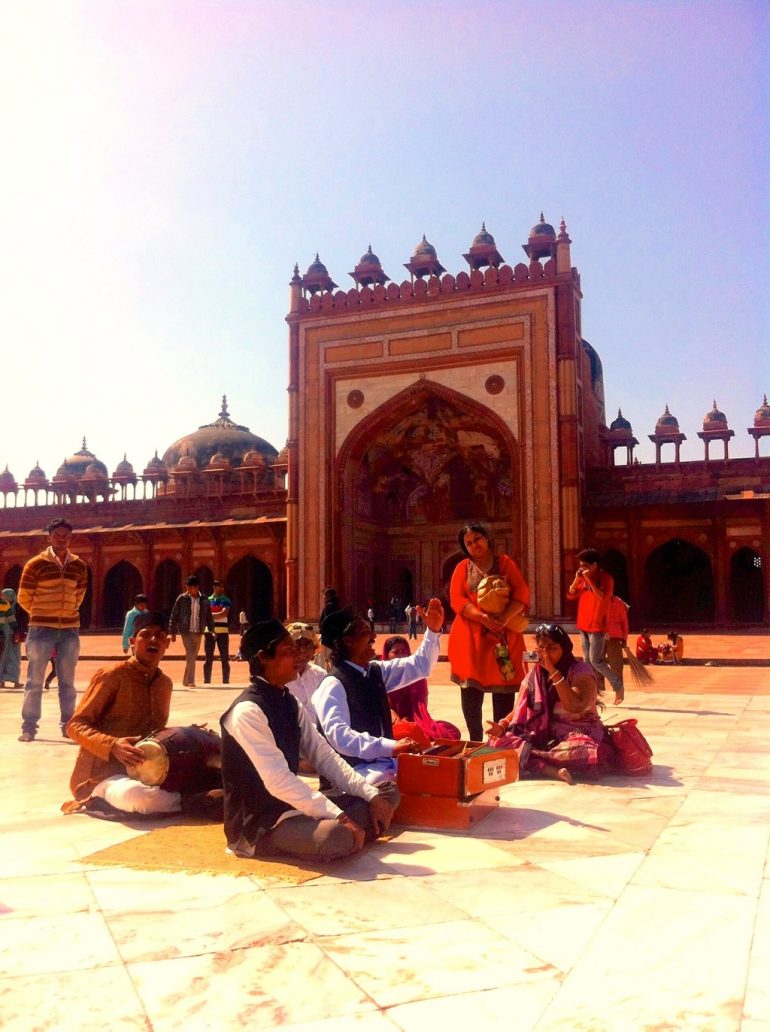 We drove about half way and stayed at a quite nice hotel, the Umaid Lake Palace. I don't believe it really did have 5 stars as it claimed, especially not the rooms they gave us. But as we were the only guests in this huge place, they let us park the bikes in the reception area! Dining alone in the huge hall was a great experience, too, and the waiters were extremely friendly. The night ended with all of us speaking on the phone with the wife of the main waiter who was a great guy.
You should definitely bring some good equipment when renting an Enfield in India: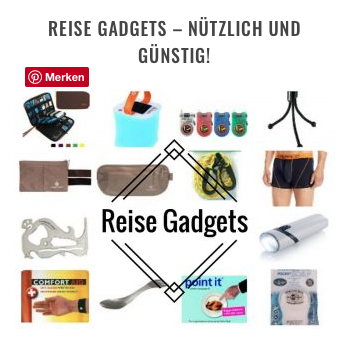 Day 4: Somewhere – Agra – maybe Delhi
Drive on the highway here. There are not really any alternatives and the highway is not so busy here. Just watch out for people going the wrong way! And, once again, don't miss out on spending time with very curious locals and sampling some of the best street food you can find!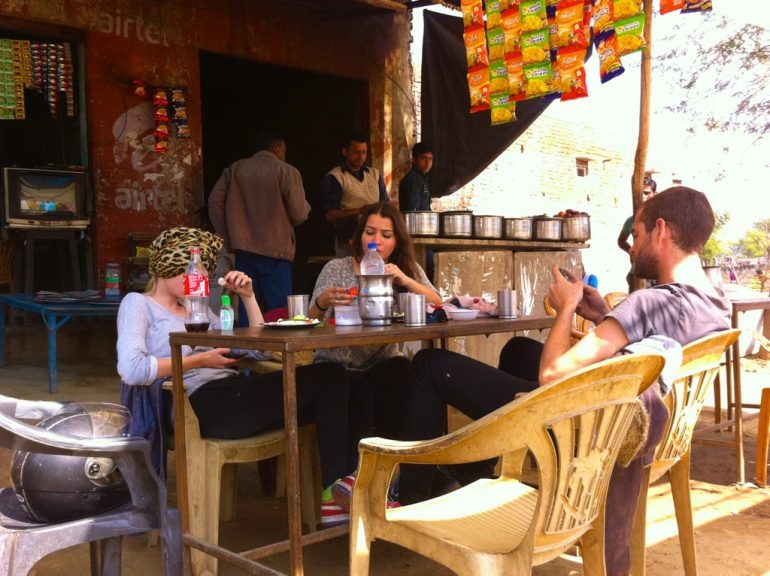 Make sure you stop at Fatehpur Sikhri. It is an amazing place and you can easily spend a few hours here. We especially liked entering from the backside which has no tourists at all.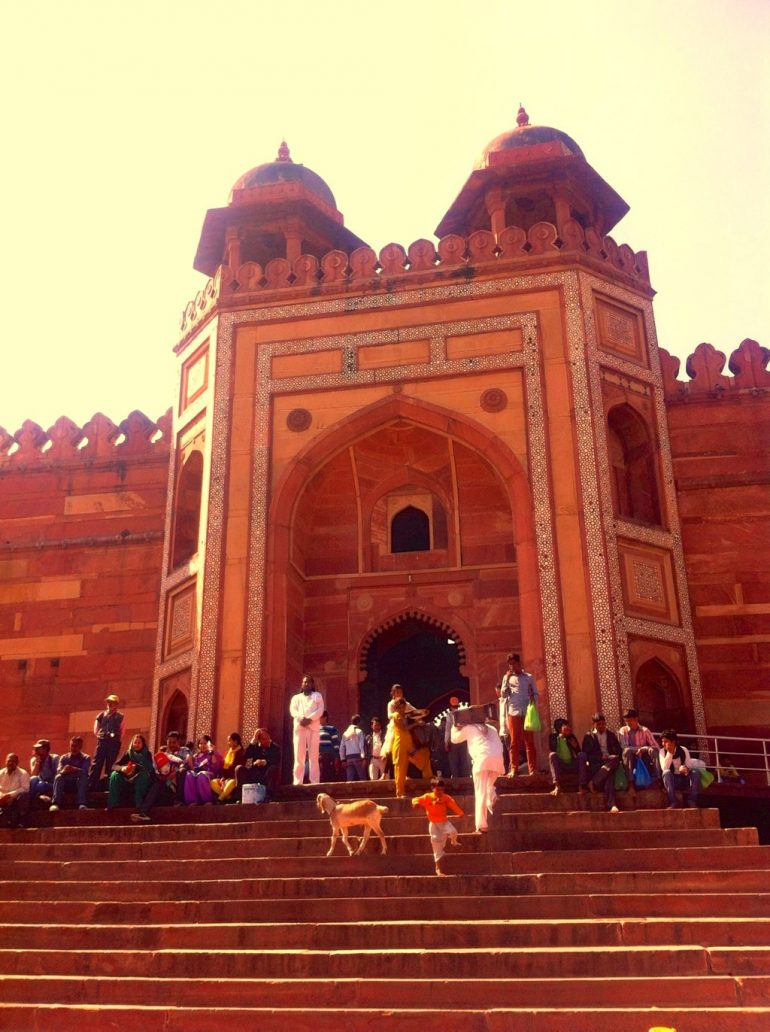 Then focus and face the nightmare traffic of Agra. It might not be as bad as Jaipur, but it is very close!
Make your way to the West Gate of the Taj Mahal where you can park the bike for a few rupees. From there, the easiest is to take a horse cart or a rickshaw. Let them take you to the lockers where you can store all your luggage. From there, it's not far to the entrance.
I personally preferred Fatehpur Sikri and Alwar Palace to the Taj, but don't be silly: You do have to visit this place which is said to be the most beautiful building in the world! And even with the thousands of visitors at all times, it is definitely worth taking a look at.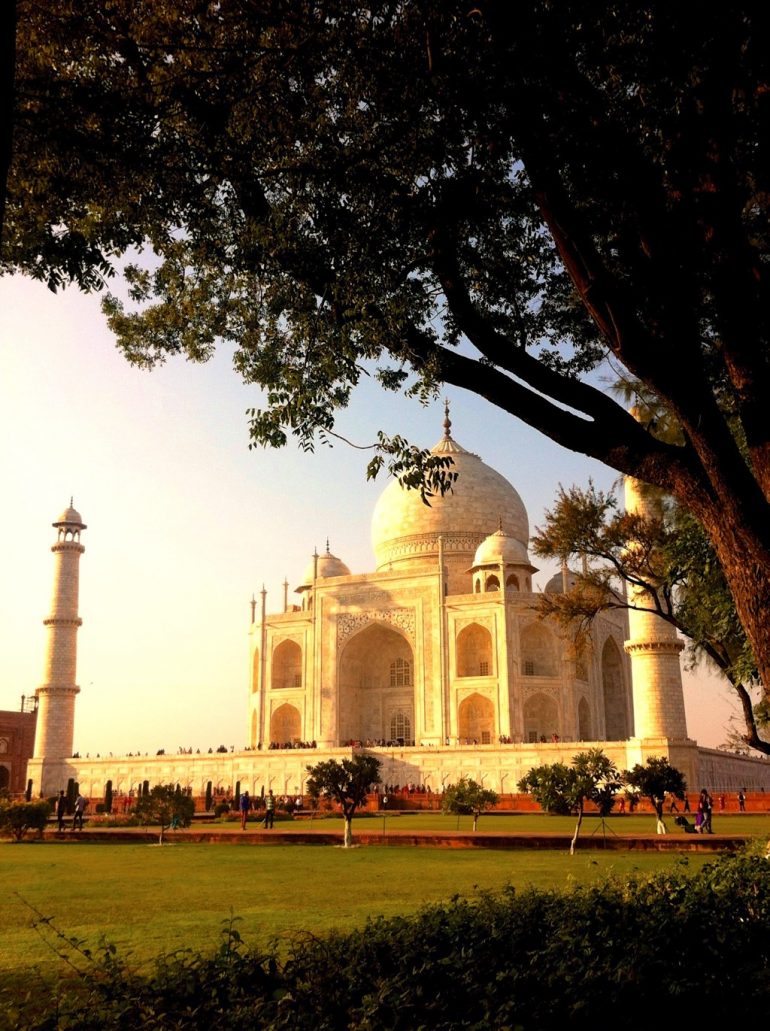 Now you will have to decide: You can stay in Agra and drive back the next day. There might be nice places, but we haven't seen any. For all four of us, Agra looked like the worst shithole imaginable. That's why we decided to drive straight back to Delhi. If you decide to do the same, have something to eat at the outskirts of town, then get back on the road.
Good news: There is a brand-new highway connecting Agra and Delhi, almost all the way. It is like any highway in the West, it has rules and people do actually follow the rules! Best of all: There is hardly anyone driving there at all (probably due to the rules). We were all alone for long stretches.
Day 5
If you stayed in Agra, drive the last bit now. If you are already in Delhi, use your new driving skills to drive through the city. In spite of 25 million people, Delhi will seem like a piece of cake to you compared to Jaipur or Agra!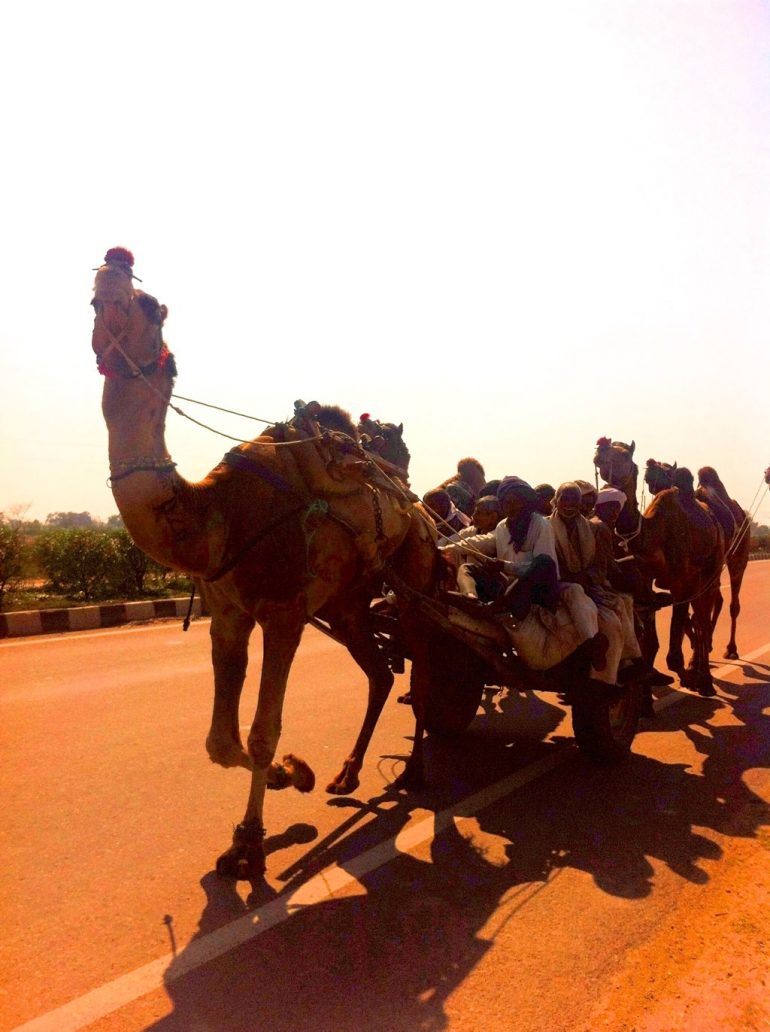 This 5-day-trip was certainly one of the highlights of my whole India trip! My buddy John and I are already thinking about taking two Enfield Bullets and driving them from Delhi to Bangkok…
Please do not hesitate to contact me with any questions you might have concerning a similar trip!
This post is also available in: German