Namibia's capital Windhoek is located right in the middle of the country and has a rather small population of around 300.000. I personally remember Windhoek as one of the hottest places I have ever been to. The air, searing and dry, did not move even a bit when I was there, giving the city an almost surreal atmosphere. But Windhoek is well-worth a visit and will most likely be your hub for adventures in Namibia.
Windhoek is a fairly safe place, that is, if you don't flash expensive watches or camera gear. Walking around the city is no problem, especially in the center. Most of the cool things to do are located outside of town, but there are also some adventures to be experienced in Windhoek itself. Here come my suggestions for adventures in Namibia.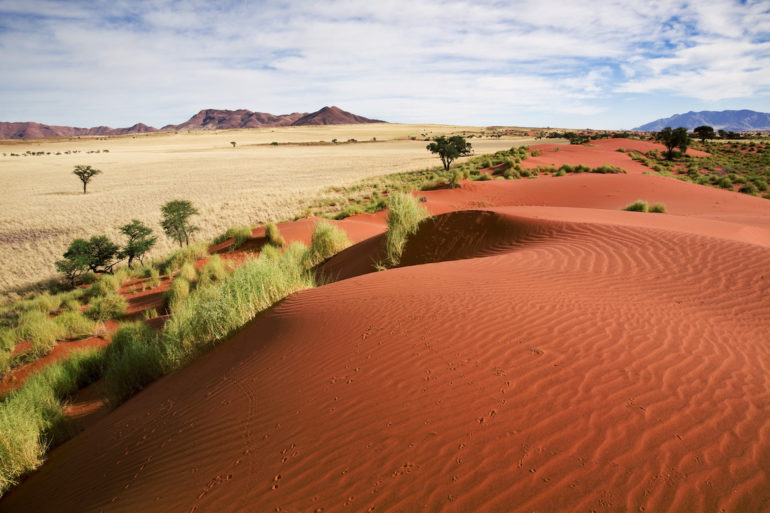 Hike to the Christ Church in Windhoek
The Christ Church is a historic landmark in Windheok and a sight many visitors don't expect in Namibia. Designed by a German architect and built from sandstone, it mixes neo-romanesque, Art Nouveau and Gothic revival influences. The Christ Church sits right on top of a little hill, making it a perfect spot for taking pictures.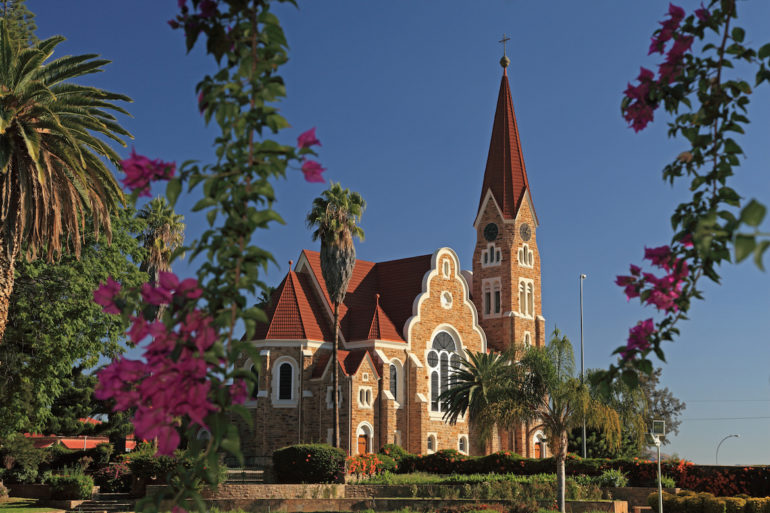 Make the effort to climb up the hill on foot and you will be rewarded by beautiful sights of both the church and the city. Find plenty of interesting shops on the surrounding streets, selling pretty much everything from clothes to kitchen utensils.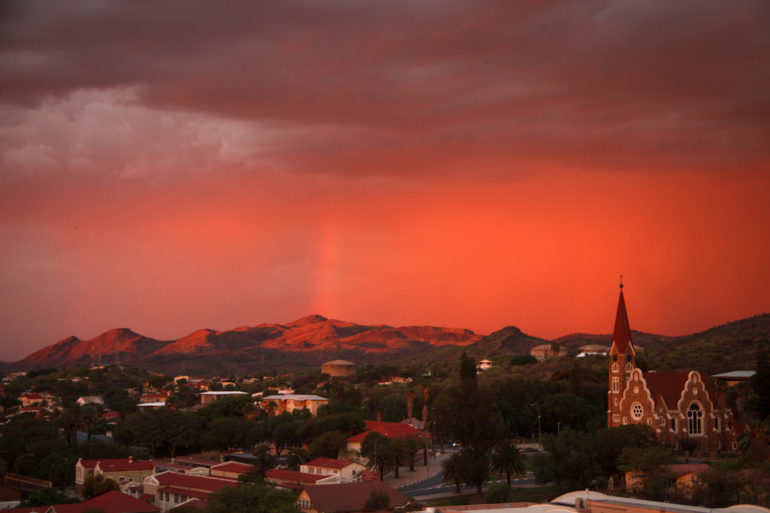 Get stuffed at the Single Quarters meat market
Grab a taxi to the township of Katutura for an unusual experience and a true adventure in Namibia. The Single Quarters meat market is exactly what the name implies, a big outdoor market specializing in freshly slaughtered meat. If you can handle cow heads and hooves on the ground (yes, the slaughtering takes place right on the spot), get a portion of Kapana, meat barbecued right in front of you! The delicious meat is served in an old newspaper and comes with spices and salad, sometimes even with a freshly mixed sauce. While you wash down your portion with a chilled soda, you will have plenty of time for watching the locals do their thing. Highly recommended!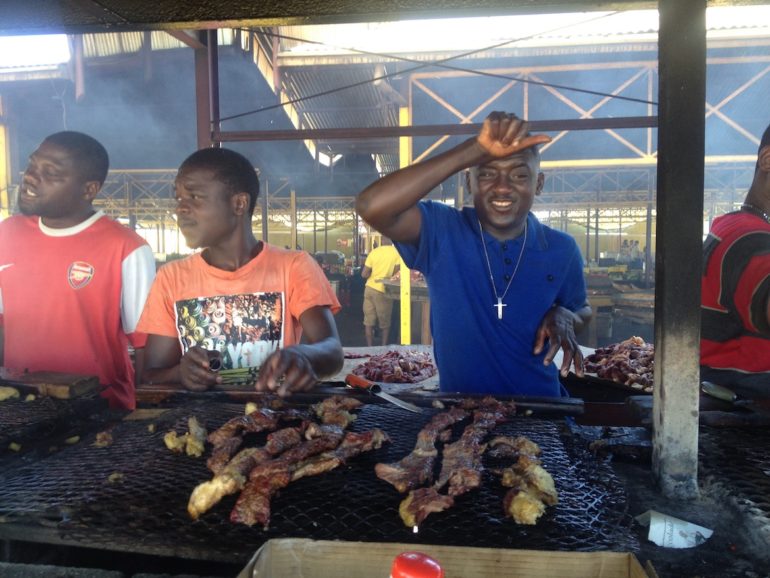 While you're here, make sure to check out the Katutura Art Centre, giving the visitor a good overview of the apartheid in Nambia in general and the township in particular.
Dive deeper into the culture at Soweto Market
If you enjoyed the Single Qarters, Soweto Market should be just right for you. The bustling market is a a commercial centre where small businesses such as seamstresses, vendors and hairdressers thrive. The mix of products on sale is quite eclectic, to say the least. But even if you don't buy anything, a visit to the market is a great way of experiencing the local culture. Just watching and talking to the locals can be a true adventure. You want a more hands-on experience? Well, why don't you get your hair braided?
Adventures in Namibia: Sandboarding in Swakopmund!
Once you've accustomed to the heat, it's time to check out the desert. In order to do so, hop on a 'Town Hoppers' bus to Swakopmund. The little town right at the sea is the starting point for several adventures. As the bus stops in quite a few places, you will need about 4-5 hours for this journey.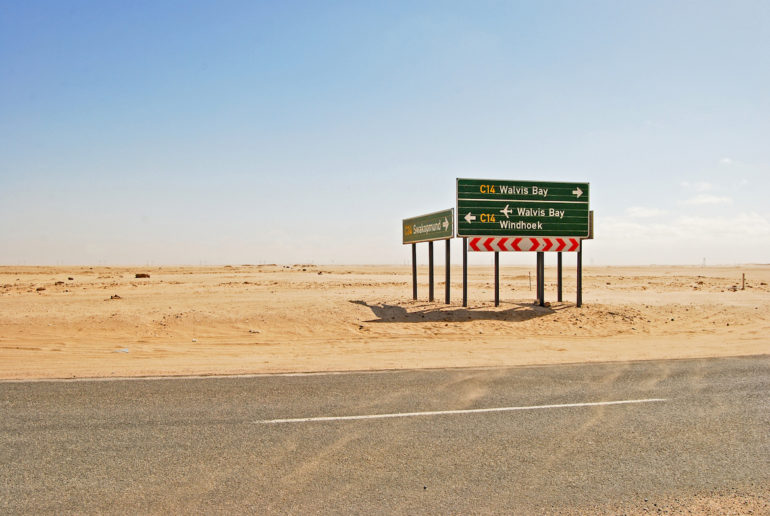 Once you get there, find your way to the Skeleton Backpackers. Not only is this the nicest way to stay in Swakop, you will also find a guide here for your tour into the Namib desert. Swakop itself is a very relaxed town with lots of German gastronomy and a much cooler climate.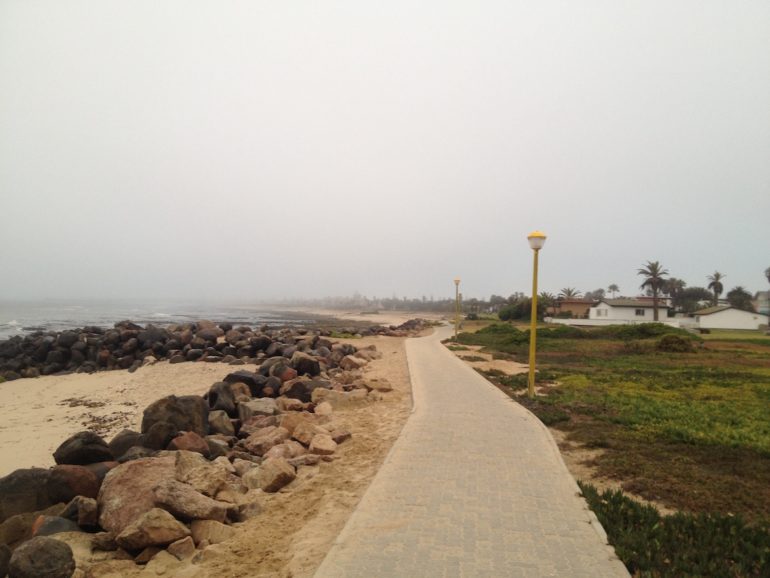 There are various desert tours on offer, but I highly recommend the one including sandboarding. You will have to hike up the dunes, conventional snowboard in hand, but boarding down in the hot sand is an incredible experience and you will find yourself going up again and again. An alternative to the snowboards is a simple carton you lie down on. Not so elegant, but much faster!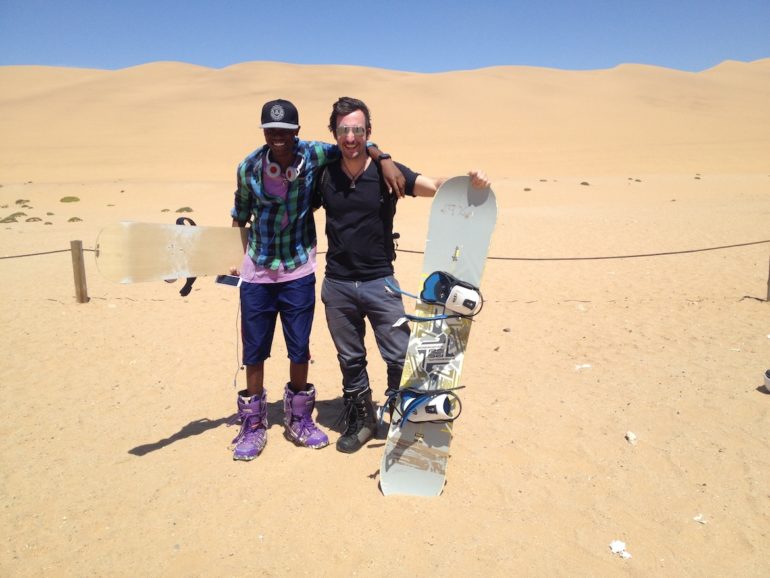 From the dunes you also get a good view of the so-called 'road of death'. It's not even that bad, but a lot of accidents happen here regardless. My guide Pali explained it as follows: "Everything in Africa is always very slow. Except the cars, they are always very fast."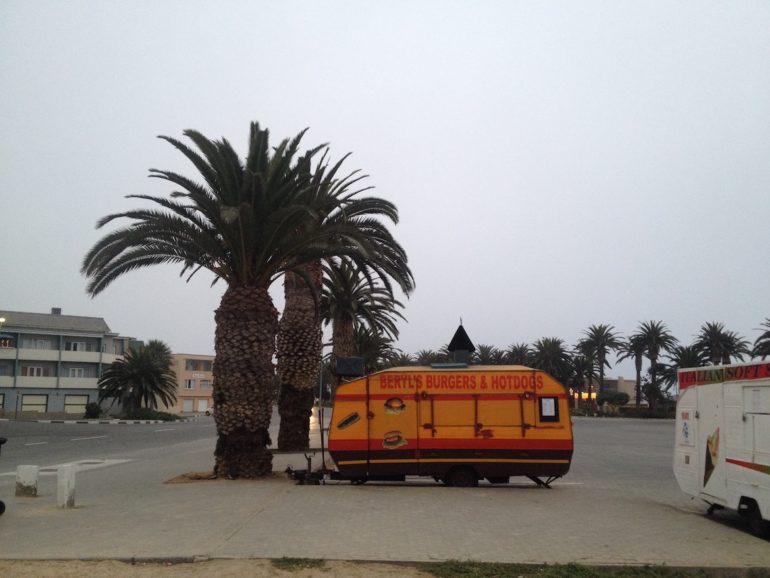 See some wildlife in Walvis Bay
Another great tour starting from Swakopmund goes to Walvis Bay, a beautiful port 40 minutes South of Swakop. You can book an all-inclusive tour in Swakop so you won't have to worry about a boat once you arrive at the port by bus. The area around Walvis Bay is a protected home to many animals like pelikans, flamingos, dolphins, wales and sea lions. Prepare to see quite a few of the latter while cruising on the comfortable boat. If you are lucky, you will even have one of them come aboard to get fed with fish by the crew.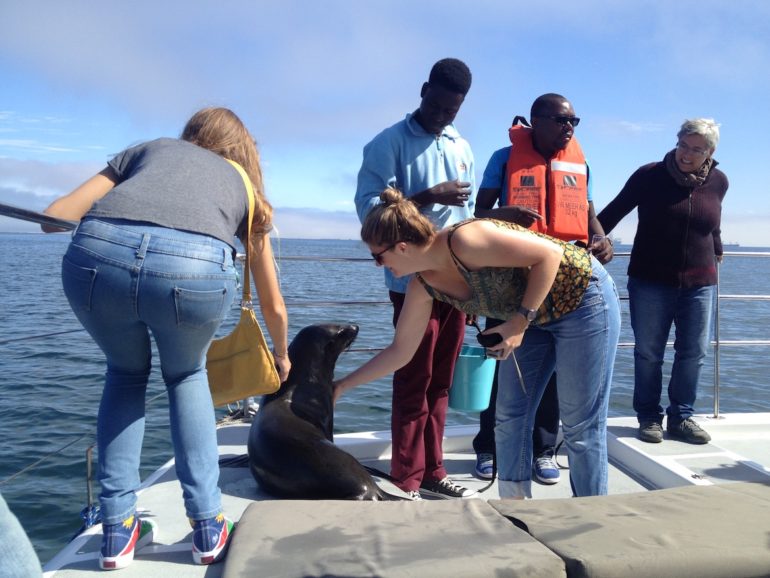 The boat ride around Walvis Bay is also a great way of meeting local people as at least half of the tourists on board are from Namibia or neighboring countries. While doing the loop, you will be served fresh seafood and plenty of drinks, all included in the tour price. Once you get back to Walvis Bay, you will probably be a little tipsy, but very satisfied. You can use the drive back to Swakop for a little nap.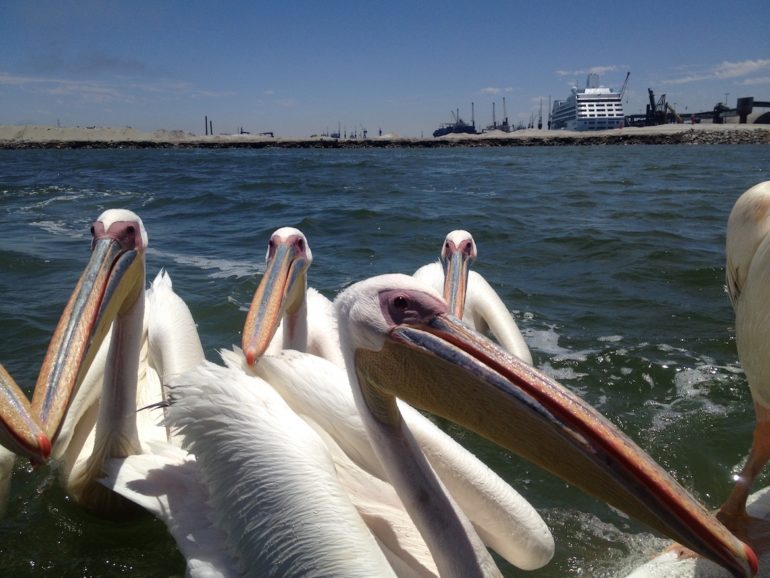 Have I forgotten any adventures in Namibia? Then please put them in the comments!
Watch all the adventures I had in Southern Africa here:
Disclaimer: This article has been sponsored by KLM. However, everything mentioned in the article is my own opinion as always.
MerkenMerken
MerkenMerken
This post is also available in: German